HIGH WINDS NO MOISTURE - DO YOU KNOW WHAT TO DO IN SEVERE WEATHER?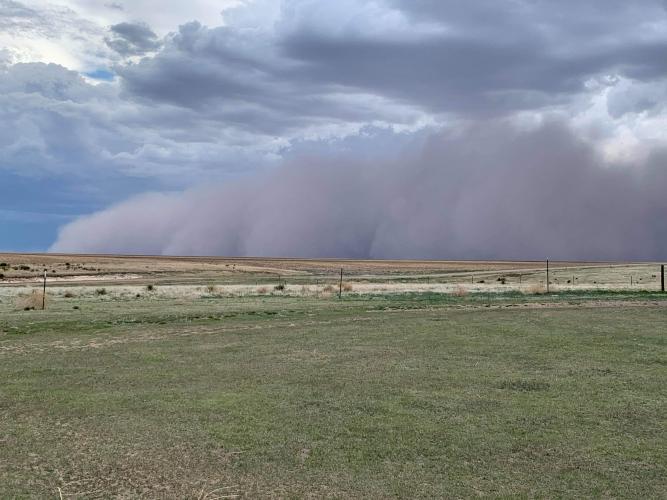 Over the weekend the promise of rain brought hope to many farmers desperate for some moisture on their wheat.
Instead, emergency alerts went off that a tornado was spotted somewhere nearby. As many headed to their basements, a wall of dust came upon us with gusts of 59 knots or 68.9 mph winds.
Acccording to the US Drought Monitor, Hamilton County is in a moderate to severe drought . In moderate drought, wheat and grasses are drought stressed; hay demand increases, Fire danger increases
In a severe drought, wheat, corn, and hay yields are low; crops are severely damaged and more grass fires occur
Mesonet says Hamilton County has received 4.98 inches of precipitation from August 1, 2020 to May 3, 2021.
According to Sheriff Mike Wilson, May is our busy month for tornados.
Emergency Manager Steve Phillips shared some data - since 1950, Hamilton County has had 33 tornados with only one person injured. And in 2020 we had three tornados.
In 2007, nearby in Holly, Colorado, a rare March tornado hit around 8:00 pm. It was an EF 3 with maximum winds estimated to be around 150 mph. Rosemary Rosales died that night and 35 homes were destroyed.
It is important to seek shelter. Since we have no public shelters in Hamilton County at this time, it is important to designate a shelter at the lowest level, smallest room in the center of a building.
Mobile homes offer little protection. Practice getting to your shelter or plan for contingencies that may affect your ability to ge to your shelter.
Prepare an emergency kit.
During a tornado watch, stay tuned to a radio, scanner, tv, smart phone or watch the sky.
Check your emergency kit for extra batteries, flashlight and water.
During a tornado warning, understand the risk if you go outside to observe the tornado. It is unlikely you will be able to see a tornado because they typically develop on the back side of thunderstorms.
Head to your designated shelter. Leave vehicles or mobile homes at once. Do NOT get under bridges or underpasses. Do not attempt to outrun a tornado.
Tornado sirens are designed to be an early warning device primarily for persons who are outside away from the television or radio. Sirens will be sounded when storm spotters or the National Weather Service perceives a threat to the community. If the sirens have been sounded multiple times and have stopped the threat may not be over as they operate on battery power and may be exhausted. THERE IS NO "ALL CLEAR" SIGNAL GIVEN.
Tornado sirens are not frequently heard in some homes for multiple reasons including distance from the siren, windows closed with air conditioning on, people being asleep during night time storms.
Hamilton County Emergency Management highly recommends keeping a NOAA ALL HAZARDS SAME alert radio in their homes, preferable in the bedroom with a tone alert or use a smartphone to monitor the weather.
photo courtesy of Kathy Wilson