Painting and Bicycling Across America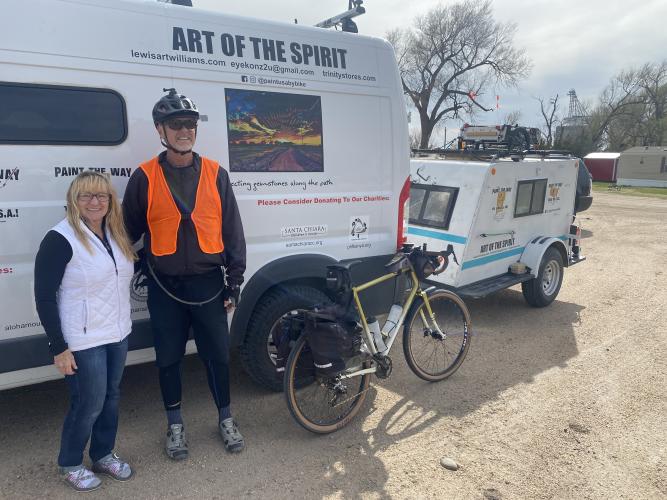 Lewis Williams is bicycling across the country with his wife Denita as his support person/vehicle. On March 1, he dipped the back tire in the Pacific Ocean in San Diego and began traveling east. Their destination is Bar Harbor, Maine where he plans to dip the front tire in the Atlantic Ocean.
They stopped through Syracuse to buy some groceries, put some gas in the van, and eat some delicious Mexican food at Country Cafe. Lewis is a big history buff and they followed the Old Spanish National Historical Trail to Santa Fe NM. Then they traveled on to Bent's Fort, the Sand Creek Massacre site and the Amache relocation camp.
While they reside in Motrose Colorado, they are enjoying their travels. "We meet the nicest people everywhere we stop," said Denita.
He is a Plein air painter. Plein air is a French expression that means "in the open air." It is used by artists to describe the art of outdoor painting, capturing landscapes and views in natural light.
When the weather is not great, he grabs his wagon, his paints and easel and goes to work. You can follow him on facebook @paintusabybike