So God Made A Farmer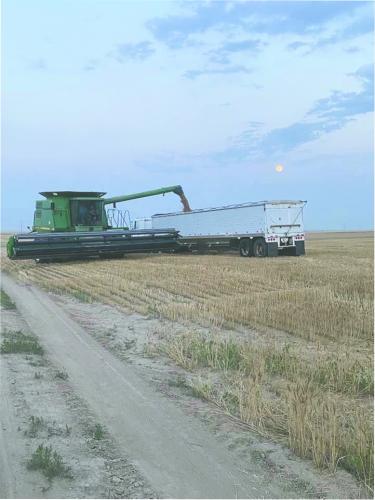 If you are old enough to remember radio broadcaster Paul Harvey, his famous "The Rest of the Story" segments might come to mind. He would begin "Hello, Americans, this is Paul Harvey, stand byyy for Newwws!" and end his segment with "Paul Harvey…good day!"
For many who listened to the radio while traveling or perhaps farmers and ranchers in the fields or pasture, it might have been one of the highlights of their long days spent tending to their farms or livestock.
One of his speeches titled "So God Made a Farmer" was delivered in 1978 at the Future Farmers of America convention in Kansas City, Mo. Thirty-five years later, his voice was heard once again delivering the same speech during a Dodge Ram commercial during Super Bowl XLVII.
The speech was a continuation of the Genesis story of creation and began, "On the eighth day, God looked down on his planned paradise and said, 'I need a caretaker.' So God made a farmer. The speech continues on to describe the life of a farmer, but one excerpt applies to today. It says, "at planting time and harvest season, will finish his 40-hour week by Tuesday noon. Then, pain'n from 'tractor back,' put in another 72 hours. So God made a farmer…."
Why would someone do that? Work that hard day after day, year after year. So this was asked to several farm families in our community, many of whom are second and third generation farmers. "
Pat (Ochs) Keller has been a vital part of harvest for over 60 years. She began preparing meals when she was in the seventh grade while her mom, Emogene drove the combine. "I always admired mom because she could do it all!"
After she and her husband, Chuck, were married, they would take their vacation and come to Kansas to harvest. "Mom had a milking stool in the cab and Ken was only two and would ride with mom all day."
She is especially proud of her family as they continue her parents' legacy, but admits she worries when the storms come, hoping the crops are spared. "Everything cost so much and when I bring a small sack of parts with a bill for $7,000, it breaks my heart, but that's what they want to do, they love it!"
Tracking down the second and third generation in the Keller family was a little more of a challenge. Pat's son Ken had gotten rained out of the wheat field so after attending his son's baseball game, he was back in the field on a spray rig at 9:30 pm when we had a chance to visit.
He began to explain his love for agriculture by saying, "I turned 49 years old on the 27th of June and this is probably my 45th harvest!" His time spent riding in the tractor and combine on a three-legged stool was still fresh in his mind, just like his mother, Pat explained. "I spent every summer on the farm, I don't know why but I just loved it!"
Ken's chance to farm came after high school when his grandfather, Bud Ochs' health was deteriorating. "My dad (Chuck) encouraged me saying, I think you will learn as much the next four years working on the farm with your grandfather as you would in college," adding, "He knew my passion and love for the farm."
He recalls his grandmother (Emogene) driving their C combine and having to stick her arm through the rubber on the side of the cab to engage the separator and at the end of the night, her arm would be black.
Ken's wife Denise, is now in the combine and he is amazed by her, working 12-14 hours a day in the field, while still managing her own business. "She enjoys the change in profession for a few weeks in the summer," said Ken. "Our son Kyler is running grain cart, and son Chase and I run semis, it's awesome having the kids working with us.
Chase remembers being in the field harvesting wheat with both his grandfathers, Dale Holdren and Bud Ochs, but mainly just being in the field in general. When Chase was asked why he came back to the family farm, he replied, "To me, it's not just a job, it's a way of life and I've always had a strong passion towards it and it's something I've always wanted to do!"
Jed Simon, son of Janice and the late Don "Duck" Simon, remembers beingwith his father riding on the 95 John Deere combine which had a small window in the cab. He would climb through it and shovel wheat in the corners of the bin of the combine, making more room for grain until the grain cart came by, "It might have been a little dangerous!"
He came back to the family farm because it's fun and he likes doing it. He hopes his children develop a good work ethic while spending time on the farm and in the harvest field and to teach them there is good and bad and no guarantees.
Jed's brother Justin's early memories during harvest was waking up at 5:30 am every morning, having breakfast at the Ramble N with his dad, Don, his uncles and cousins, "I remember listening to the local farmers tell how great their yields were compared to others!
Janice Simon added, "Wheat harvest is a very special time for farmers. I watched my Grandparents-Elmer and Elsie Ploeger, my parents-John and Anna Graber, my in-laws, Cletus and Bert Simon and countless others work their tails off to get to the two week harvest period. In the good years you see an extra perk in their step and in the rough years you saw new worry lines grow. I now get to watch my sons Jed and Justin along with their families go through these same emotions. Many ask why you do it and the only answer I have is it's in our DNA. That once a year paycheck pulls us together as a family and everyone steps in to contribute. So proud to say we are Southwest Kansas Farmers!"
While memories vary from generation to generation, a common denominator is mealtime in the field with the family and crew. A time to laugh about the day's events, rest and recuperate to continue doing what they love.