VARSITY BULLDOGS UNDEFEATED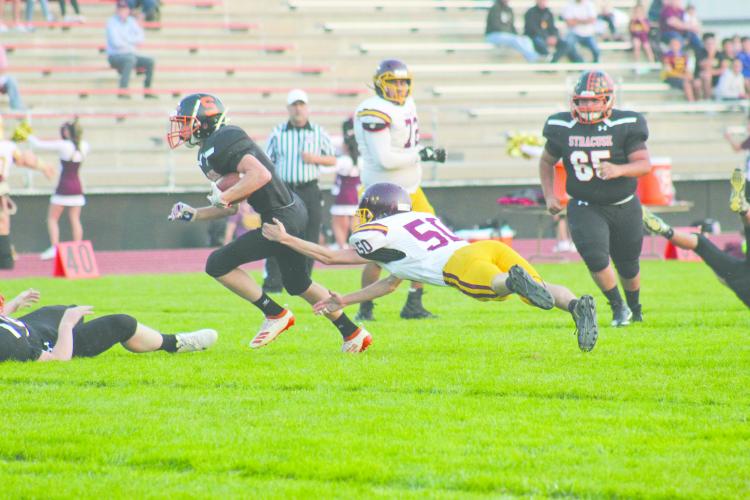 In case you haven't heard, the Syracuse High School Bulldogs football team is 3-0, having defeated the Stanton County Trojans 27-0 on Friday night. It's the first time the Bulldogs have been undefeated since 1999 with coach Mickey Sharon.
Some of the highlights and statistics from the game were Jay Gould had eight carries for 89 yards, one touchdown, four out of ten completed passes and one touchdown, Kolbie Brummett had 20 carries, 151 yards rushing and two touchdowns. Joe Mitchell had seven tackles, one 55-yard touchdown, one interception, and one forced fumble.
Senior Ryan Thompson was Wheatland Electric's Lineman of the week. He helped lead his team to 273 yards of team rushing for an average of 7.8 yards per carry. Defensively, he anchored the shutout with six total tackles, one for a loss and a forced fumble.
New head coach Jordan Irsik says, "We are Uncommon. Common is vaping. Common is I don't care enough. I have better things to do. Uncommon is pushing past the 'I don't care enough to go to summer weights. I have a job. I have better things to do. School isn't important.'"
"It's incredible to see it come to fruition and very rewarding. I am very fortunate to have the group of players I do, willing to buy into the positive culture, to find ways to get to practice, to study harder, to be uncommon. We created something people want to be a part of."
There were a few things the players had to conquer to play. Some didn't have the confidence to believe it or apply it to the classroom or their community.
And there is a real difference. Many have have changed physically and psychologically.
"An example is Roy Aguilar. He lost 40 pounds of belly fat and put on muscle. He is early to practices and strong on the offensive line."
Irsik credits his coaching success to those he played for in high school and college. His football coach won a state women's basketball tournament. The principal of the school turned the school around. The assistant head coach is now the head coach at St. Francis and has a career record of 25-2.
"When I got to college, Butler Community College and Ottawa University, both have that same mentality as well," said Irsik.
"I am in the building checking on their class attendance, their grades, and their teachers are keeping me in the loop.
At the start, the kids bought in to it. And parents are now buying in too.
"We have kids that have straight A's," said Irsik. "No kids are on the ineligible list. I hold study hall on Wednesday nights after practice. If they are behind they have to come and work with me for an hour. And no one wants to do that."
Irsik believes it's important to have a high level of expectation. These kids meet the expectation you give them. But he says you have to find a balance because some of these kids are dealing with a lot personally, in their family, or community.
"At the end of the day, academics are more important than football and that's how it should be. Sometimes that line gets blurred."
The teachers see a difference and comment to Irsik they have never see a kid this focused before. They are confident. And Irsik says, "It feels good. People don't realize that yes I brought the change but it takes a team of coaches and teachers and parents. And the players dedication."
It's been a rigorous season of not only working with the players but the COVID-19 protocols that are different at each school. There are eight regular season games and five left. Up next is TMP - Thomas More Prep-Marian.
And the games will get progressively harder.
"We have to be sound fundamentally to win there and limit the mistakes," said Irsik. "If we end the season fourth or better we move to the playoffs."