Business of the week: Holstein Supply Celebrates 20 years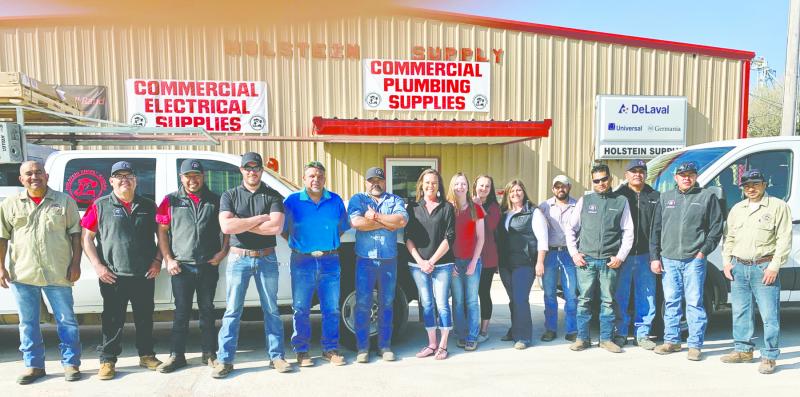 Editor's note - Now more than ever, shopping local is key to our town's economy. Each week we would like to feature a local business to help promote our small town economy. Perhaps the business sells something you were unaware of.
Holsein Supply is celebrating 20 years in business in Hamilton County. They opened their doors on April 1, 2000 and are currently located on west Highway 50.
Owner, Kreg Welch grew up in Central Texas working in the dairy industry, and moved to Syracuse in the 90's because of the growing dairy industry here. He later started Holstein Supply and was the only employee at that time.
Holstein Supply began solely selling chemicals and supplies and now "we sell everything from toilet paper to dairy barns," said Nicole Salm, General Manager. She explains that as the need arises they diversify to meet the needs of their customer base.
They currently have 25 employees and offer a broad range of services and products. They sell everything from iodine which disinfects and conditions the udders to chemicals which clean and sanitize the milk pipelines, gloves and milking aprons to help milkers keep clean during the day.
They also sell and install nationally recognized dairy equipment including Carrier Chiller Systems, Mueller Milk Tanks, DeLaval Milking Parlors, Artex Fans and Headlocks. And are proud to have a Milk Quality Technician who performs wash analysis for dairy farms to ensure they have the highest milk quality possible.
Holstein Supply does concrete and construction work including commodity barns, feed lanes, and mechanic shops. "We are a 24/7 service company and we staff highly experienced electrical, refrigeration, and stainless steel welding technicians," added Salm.
Locals may not be aware that they are not limited to only the dairy industry. "We have services and items for you too," stated Salm. Items such as fly spray, gloves, blue shop towels, electrical and plumbing parts. They also have individual milkers for sale in case someone wants to milk just one cow or goat.
They can build shops, service electrical needs, install HVAC units, hot water and water softener systems and they are also a great source for LED lighting.
In addition, they rent skid steers with several attachments available, excavators to dig trenches, telehandler, and a scissor lift all at reasonable prices. These can also be rented for weekend projects.
While the future of the dairy equipment industry is moving towards robotic milkers, Holstein plans to train in the installation and function of the robots and they hope to install them in western Kansas.
They feel some of their greatest accomplishments is building the largest rotary milking parlor in North America, at that time, around 2006 in Texas. Another great accomplishment has been working with their customers in western Kansas and helping them become one of the most successful dairy industries in the country.