Senior Night Volleyball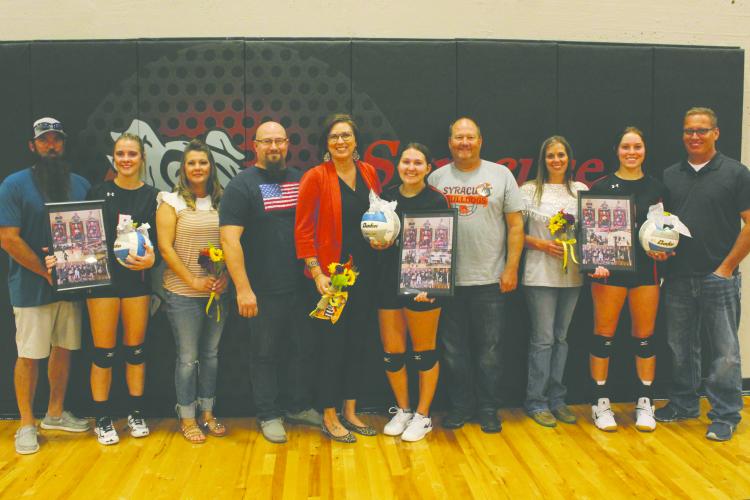 Three Syracuse High School volleyball seniors were honored on Tuesday, October 5, during the volleyball tournament at Syracuse.
Kaetlin Thomeczek, daughter of Joe and Dami Thomeczek has played volleyball since the third grade, playing with Syracuse Youth Activities Association (SYAA). Smith commented, "Kaetlin is having her best serving year of her career with 92.2% and only nine serving errors." Adding, "Due to circumstances out of her control, Katelin had a slow start to her senior year but has continued to step up for her teammates." Playing only 41 sets, she has had 49 kills and has a .027 hitting percentage and three blocks.
Emma Heglin, daughter of Shad Heglin, Sami Smith and Wes Dickson has played volleyball her whole life, starting the rec volleyball program while in the third grade. According to head Coach Sami Smith, Emma was selected all league first team her sophomore and junior year and currently leads her team in aces with 70, tying her for third in the state in all classifications. She has 74 kills this year with a hitting percentage of .131 and nine blocks, with 234 assists.
Mallory Watson, daughter of Greg and Tara Watson, also began playing volleyball in the third grade and Smith said, "Mallory has a killer serve that most girls don't want to receive!" She has 78 kills with a .023 hitting percentage. "Mallory has played the net very well this season and has 13 blocks for her team," added Smith.
Smith commented, "These young ladies mean a great deal to me, I have coached them for seven years and have watched them grow from these little girls to very independent young women." She adds the three are strong, opinionated, compassionate young women who will do great things in life.
Smith feels the girls have helped build and grow the volleyball program with their love for the game and they will be missed. She is grateful to them and their families for allowing her to coach them and hopefully teaching them some valuable life lessons along the way.