BOYS TAKE THIRD IN HPL TOURNEY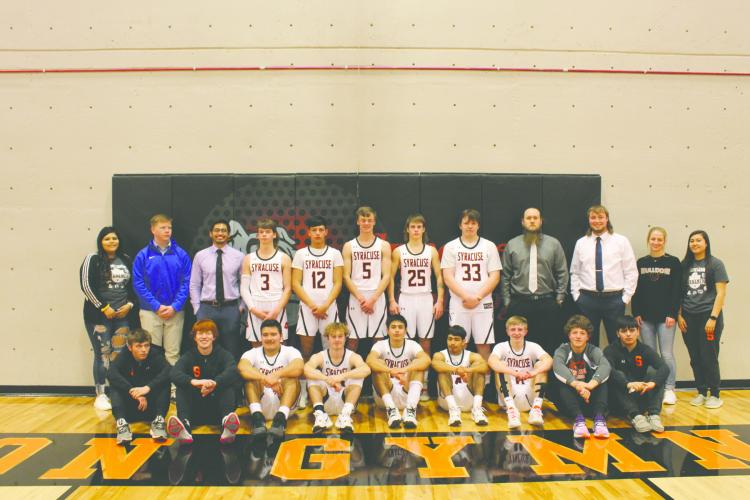 The varsity Bulldogs have finished the annual High Plains League Tournament and now looking toward the rest of the season. They will travel to Johnson to face the Stanton County Trojans Friday, January 29.
Junior Varsity boys and girls will play at 3:45, varsity girls at 5:30 and varsity boys at 7:00. According to Kansas State High School Activity Association's new ruling as of January 29, each participant is allowed four spectators.
Looking back on the tournament, head girls coach Kendra Fyler commented the Elkhart game on Thursday was a challenge for the Lady Bulldogs. "We struggled with their pressure on defense and how physical they were. We made a run in the third quarter when we looked the best, but Elkhart was able to pull away in the fourth quarter." She was proud of the girls for playing hard until the very end of the game.
Losing to Elkhart, the Lady Bulldogs played for third and fourth place on Saturday against Stanton County, finishing in fourth place. "We were able to get some of their key players into foul trouble but were not able to capitalize on that because we struggled to score the ball and that affected our intensity on defense," said Fyler. "We are excited to be able to get another chance to play them on Friday and hope to improve."
Looking forward to the rest of the season, "We are using a phrase to focus on: "Everyday a little better," said Fyler. "We have been frustrated on offense and with the outcomes of some of the games, so we want to focus on making ourselves better and successful each day and coming together as a team to have a good rest of the season." They believe that if they can continue to focus on this phrase then they will start to see the outcomes they want. "We still have a lot of games left to turn this season around and end on a positive note."
She is excited to have more fans as of this Friday. "I think having more fans will help the girls feel support and possibly help make a larger "rowdy crowd" to cheer us on in games, but we are going to continue to focus on the team and playing for each other." She wants the fans to know they are thankful for their support so far this season and hope they will continue.
The boys finished in third place after Saturday matchup with the Sublette Larks following a disappointing loss Friday against Southwestern Heights.
Head coach Jordan Wahlmeier explained the last 1.3 seconds when SWH hit a go-ahead 3 point. "As soon as the shot went up, I was screaming for a timeout and we got it, but it was a little too late!". Wahlmeier went on to say that the referees only gave them a half-second to work with, and I give credit to the guys for executing a 'prayer' play. "We drew up a last second Hail Mary inbound, Austin Plunkett threw it three quarters of the way down court to Kyler Keller, and Kyler made a crazy off-balance falling out of bounds three-pointer to tie the game!"
It was perfect execution but sadly the refs waved it off saying it did not leave Kyler's hand in time. Talk about a roller coaster of emotions. Losing that game put us in the 3rd/4th place game against Sublette.
He admits they did not play very well offensively on Friday, missing layups and open jumpers all night. Defensively he thought they guarded well, but they did not win the rebounding battle or win enough 50/50 balls to be able to win the game. "Credit to Southwestern Heights for coming in and throwing a bunch of different defenses at us, we could not get into a rhythm all night," said Wahlmeier.
Saturday, he thought the boys responded well, using that bitter taste in their mouth from Friday night, coming out to completely dominated a very solid Sublette team from start to finish. "Our guys understand that we controlled everything that we could control Friday night, and we entered Saturday's game with the same mindset, control what we can control, be ourselves, and the rest will take care of itself and it did!"
The Bulldogs finished third and now have a 10-2 record. While they have Tuesday off, they will face the Stanton County Trojans for the third time this season. 'It will be a chess match and a battle for all 4 quarters again!" said Wahlmeier. "I'm looking forward to having some more fans in the gym, and I know the boys are also excited, they love playing in front of people and putting on a show," adding, "It's hard to beat the atmosphere of a loud gym during basketball season."
In closing, Wahlmeier says they are focused on getting better every day, doing the little things right, taking one game at a time, and doing whatever they can to put themselves in the best position to win each game.
"The boys are hungry and understand that we have work to do to accomplish the goals we've set at the beginning of the year and I'm excited to see what the rest of the season has in store for us!"
The Bulldogs have eight more games before the Substate tournament beginning on Monday March 1 in Spearville.
Box scores
Girls vs. Leoti
Thomeczek 5 2-2 12, Finlay 1 3-4 8, Mitchell 3 0-0 6, Moreno 2 2-4 6, Housholder 2 1-3 5, Riley 0 2-4 5, Lawson 1 0-0 2.
3 point Goals – Finlay 1, Riley 1.
Syracuse 14 7 13 10 – 44
Wichita Co 7 13 5 5– 34
Kadee Thomeczek led the lady Bulldogs with 12 points, 1 rebound, 2 assists, 3 steals.
Ashlyn Finlay added 8 points, 2 rebounds. Yaya Moreno had 6 points, 2 rebounds, 3 assists, 4 steals. Jayden Mitchell also had 6 points, 4 rebounds. Alex Housholder and Kate Riley each added 5 points. Brooklyn Lawson had 2.

Girls vs. Elkhart
Moreno 3 2-3 14, Riley 1 0-0 5, Lawson 1 0-0 5, Thomeczek 1 2-7 4, Finlay 0 1-3 1.
3 point Goals- Moreno 2, Riley 1, Lawson 1.
Syracuse 5 3 14 7 – 29
Elkhart 17 5 12 11 – 45
Yaya Moreno 14 points, 3 rebounds, 1 assist, 3 steals
Kate Riley 5 points, 5 rebounds, 2 assists
Brooklyn Lawson 5 points, 1 rebound
Kadee Thomeczek 4 points, 1 rebound, 1 assist, 2 steals
Ashlyn Finlay 1 point, 5 rebounds, 2 steals
Girls vs. Stanton Co
Moreno 2 3-5 7, Watson 0 0-0 6, Riley 1 2-5 4, Thomeczek 1 1-1 3, Lawson 1 0-0 2, Housholder 0 1-2 1.
3 point goals – Watson 2.
Syracuse 5 7 2 9 – 23
Stanton Co 10 10 10 15 –45
Yaya Moreno 7 points, 3 rebounds, 2 steals
Mallory Watson 6 points, 1 steal
Kate Riley 4 points, 6 rebounds, 1 assist, 1 steal
Kadee Thomeczek 3 points, 4 rebounds, 1 blocked shot, 3 steals, 3 deflections
Brooklyn Lawson 2 points, 1 assist, 1 steal, 2 deflections
Alex Housholder 1 point, 2 rebounds

Boys vs. SWH
Keller 1 7-7 18, Mitchell 5 2-3 12, Plunkett 1 0-0 5, Brummett 1 0-0 5,
Leyva 1 1-2 3.
3 point goals – Keller 3, Plunkett 1, Brummett 1.
Syracuse 16 5 13 9 – 43
SWH 13 11 12 10 – 46
Kyler Keller led with the Bulldogs with 18 points, 2 rebounds, 4 assists, 1 charge taken.
Joe Mitchell added 12 points, 4 rebounds, 2 assists, 1 steal.
Austin Plunkett had 5 points, 10 REBOUNDS, 3 assists, 2 charges taken.
Kolbey Brummett also had 5 points, 4 rebounds, 1 assist.
Hugo Leyva had 3 points, 2 rebounds.

Boys vs. Sublette
Mitchell 6 4-7 19, Keller 5 1-2 17, Plunkett 6 2-2 14, Diaz 0 0-0 6, Leyva 0 2-2 5, Gould 1 1-2 3, Aguilar 1 0-0 2, Weis 1 0-0 2.
3 point goals - Keller 2, Diaz 2, Mitchell 1, Leyva 1.
Syracuse 24 7 22 15 – 68
Sublette 10 11 12 21 – 54
Joe Mitchell 19 points, 3 rebounds, 5 assists, 2 deflections
Kyler Keller 17 points, 4 rebounds, 3 assists, 2 steals
Austin Plunkett 14 points, 8 rebounds, 4 assists, 3 blocks, 1 steal, 1 deflection
Uriel Diaz 6 points, 3 rebounds, 1 assist, 1 block, 1 charge drawn
Hugo Leyva 5 points, 1 rebound, 1 assist, 1 steal
Jay Gould 3 points, 1 rebound, 1 steal, 1 deflection
Domanic Weis 2 points
Roy Aguilar 2 points