JH BASKETBALL WINS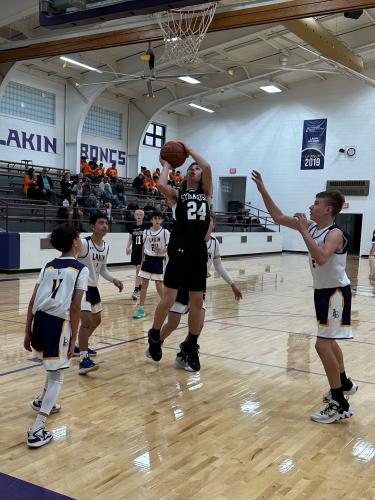 Junior High Boys Basketball A, B, and C teams travelled to Elkhart on Monday, November 21. The A team won 41-34, B team won 26-21, and C team lost to Elkhart 13-20.
Head Coach Vance Keller said, "Elkhart was a tough win for both the A and B teams but both grinded hard and came out with the win," adding, "We have had a great start to the season with both our A and B team starting 4-0. We have 29 boys out with 6 of them never playing basketball previously so it has been fun watching them develop."
The Girls A and B teams also came home with a win against Elkhart, 33-28, and the B team, 4-2.
Monday, November 28 the boys A, B, and C teams and the girls A and B team travelled to Lakin. The boys A and B teams remain undefeated with a 4-0 record, 30-16 and B team, 39-28. The girls A and B teams came up short, losing 24-43 and 7-24.
Keller said, "Lakin has always been a full court pressing team and our boys handled the pressure well for most of the game. The C game vs. Lakin was also very exciting as we had a couple of boys that scored for the first time ever with a final score of 15-17!"
Head girls coach Abbi Thomeczek hoped their games against Lakin would have gone better, "We haven't quite figured out how to play a full game against them, we let them get too much of a lead in the first half. We played so much better the second half, but it was too late."
"The A team struggled to get stops on defense and we could not get our shots to fall, the girls were taking good shots but they kept rolling out of the basket," Thomeczek said. "Our B team struggled to handle the pressure that Lakin put on them. We will be better prepared next time, and Lakin won't be ready for us! We're ready to improve and do better in the next game."
Junior high will play at home Thursday, December 1 versus Sublette.