Loving Hearts Group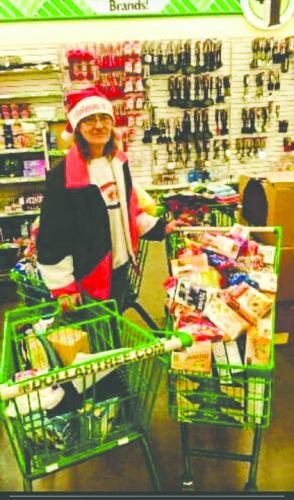 It's been fifteen years when Irena Owens Cruz gave up giving presents to her nieces and nephews who she felt were unappreciative.
"I decided to do something different. I was living in Tribune at the time and I decided to "adopt" the residents of the long term care unit there. Each family member got a card with a resident's name," said Cruz.
It snowballed from there. When she moved to Syracuse, Irena saw a great need in the community and began raising funds to help the children of the community.
So she "adopted" residents of the local swing bed, and needy children.
Last year she shopped and served 111 children, and 16 prisoners.
"There is such a need and it is an awesome feeling to give back! I am so blessed to be able to help others."
Cruz and her husband Kurtis drive to Garden City and shop for each one.
The Hamilton County Sheriff's office also helps.
Last year they threw a dinner and a party at the fairgrounds. The officers brought gifts in and it was a great time. This year with Covid restrictions, that isn't possible.
So the Sheriff's office will help deliver the goods.
Cruz with the help of several other women in town are asking again as this year the need is great! Families have lost income due to Covid. Many are having a hard time providing food, let alone Christmas for their children.
This year they are working with the Hamilton County Food Pantry to make sure both food and gift needs are met.
Can you help? Contributions of new gifts for youth ages 1-17 would be appreciated by December 17th.
Drop off points are: K-State Research and Extension Office at 520 N. Hamilton or the Hamilton County Sheriff's Office.
Monetary donations can be dropped at the Extension office to Ra Vernon or Irena Cruz.
Call Irena at 620-287-6721.
Every little bit helps.
"We have so many families who are really struggling right now. For many, when your in quarentine, you don't get paid. This can be a real hardship on the household budget. When people work together, great things can be accomplished. I am so happy that Hamilton County K-State Research and Extension, The Loving Heart Group and the Hamilton County Food pantry can work together to assist with the needs of our community during the holidays," said Lora Horton, K- State Research and Extension Agent.
As an added bonus, the Bulldog Pizzeria is offering 20% of sales tonight (Tuesday, December 15th) to the cause. Just