2020 Fall Homecoming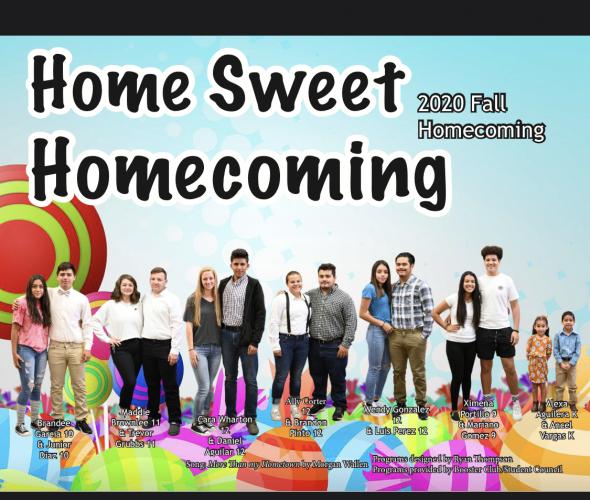 This year's Syracuse High School homecoming is titled Home Sweet Homecoming.
Senior Candidates are Cara Wharton and Daniel Aguilar, Ally Corter and Brandon Pinto, and Wendy Gonzalez and Luis Perez. Junior representatives are Maddie Brownlee and Trevor Grubbs, Sophomore representatives are Brandee Garcia and Junior Diaz. Ximena Portillo and Mariano Gomez represent the Freshmen. The Kindergartners are Alexa Aguilera and Ancel Vargas. The programs were designed by Ryan Thompson. Due to COVID-19, the 2020 Fall Homecoming will be limited to a parade and pep assembly.
The parade will start at 2:30 PM with the Homecoming candidates being driven by school employees in trucks donated by Davis Motors. The parade will start at the Herndon Gym, go north through campus, down Main Street to the First National Bank, then back north on Main Street turning west at the Black Bison Pub, proceed by the Valley State Bank, and then return to campus. Spectators will remain off campus but can watch the parade from any other location. The school asks you to keepin in mind social distancing and that masks are highly recommended. They will stream the parade live for other classes and spectators to watch during this time. Only Syracuse High School students will attend the Pep Assembly. This will also be live streamed on social media .
Coronation will start at 5:35pm with the football game to follow at 6:00pm. Masks are highly recommended at the football game.