A Veteran Gives Back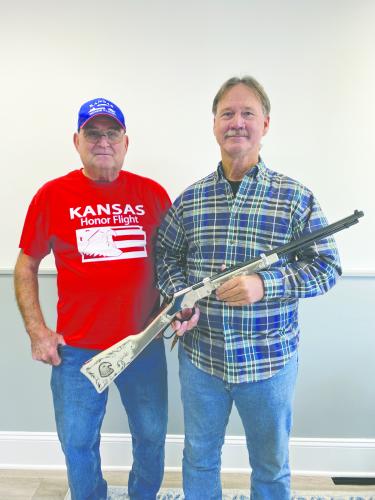 I can't think of a better way to celebrate Veterans Day than honoring one of our own. Thank you to each and every serviceman and woman who has served to protect our freedoms.
Marvin Weis served his country honorably in the U.S. Army as 2nd/8th Mechanized Infantry in Vietnam in 1967 and 1968.
"We got engaged and I got my draft notice. I went to basic training in Fort Bliss, TX. At Fort Polk, Louisiana, I did my AIT- Advanced Individual Training. When I was done in August I got a three week leave and Janet and I got married on August 27th and left for Vietnam in early September."
It was many years later when someone paid for Marvin to fly to the Vietnam Memorial in Washington, D.C. as part of the Kansas Honor Flight.
It was Flight 56 on April 20, 2018. It was such a moving and awesome experience,
"I saw names of men I knew on that wall," commented Weis.
Weis felt he needed to give back. So he decided to raffle off a Henry American Eagle .22 rifle. Their slogan is Made in America or Not at All.
In a very short time, he collected $1800.00. This will cover costs for at least two others to have the same opportunity.
On Thursday, October 29th, Weis asked the Syracuse Journal to draw a name of the winner.
In a facebook live video on the Syracuse Journal page, Lee Parks' name was drawn.
Parks received the rifle that afternoon and said, "It's an honor to know those who served."
The Syracuse Journal would like to take a moment to honor all the veterans who served this country proudly. And those who are currently serving today. We are grateful to you all!
For now, the Kansas Honor Flight has canceled all flights this year. They are planning on 17 flights next year. Normally they do about 10.
Jean Creson Caffrey is Marvin's cousin who happens to serve on the Board of Directors and as a flight nurse on their trips.
Another interesting fact is that Kansas has sent more veterans to Washington, D.C. then any other state in the union.
Kansas veterans stay two nights, go to the Memorials and Arlington, to the Tomb of the Unknown Soldier and tour around.
They visited Fort McHenry National Monument where the Battle of Baltimore took place in 1814. It was the inspiration for Francis Scott Key to write "The Star Spangled Banner."
Due to COVID restrictions the American Legion has canceled the annual Veterans Day dinner.