Cactus Cares
Last Wednesday, Wayne Craig and Shelby Padgett loaded 400 pounds of ground beef into a red pickup to drive over 300 miles from Amarillo, TX to Syracuse, KS, with one mission, help get protein to the Hamilton County Food Pantry. And not just a one time donation, but a regular consistent supply of protein to be delivered quarterly.
Hamilton County Food Pantry President Lora Horton can barely contain her excitement. "This is a game changer for us. Our biggest limiting factor is affordable protein for our baskets."
Wayne Craig is the Executive Director of Cactus Cares and Shelby Padgett is the Director of Programming for Cactus Feeders.
Craig said, "One of the most expensive pieces in the food boxes handed out is protein. And protein is one of the most vital needs in everyone's diet."
Since they are a protein production company, they want to serve those who can afford and access it as well as those who cannot.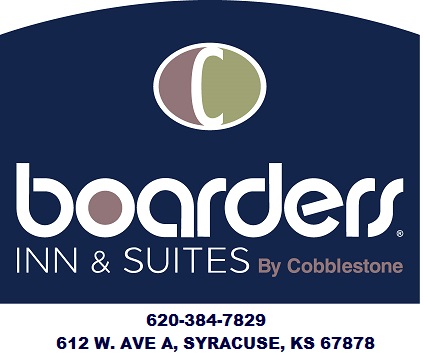 This month the Hamilton County Food Pantry supported 75 households with commodity boxes.
With the holiday season, extra boxes will go out. Our local food pantry is planning 150 Thanksgiving and Christmas boxes each.
At this time Cactus Cares serves 16 food pantries from the Texas Panhandle through southwest Kansas. They also serve Iowa, Nebraska, South Carolina, North Dakota, and Georgia.
Cactus Cares is a public charity founded on behalf of the employee owners of Cactus Feeders. Phil Moreman, General Manager of Syracuse Cactus Feeders reached out and said, "Here is this program we believe in. We need to see what we can do for them."
So they are here in Hamilton County because of Phil Moreman.
Horton said, "We are so blessed to have Phil in our community."
"We created this non profit because Cactus Feeders has been involved in its communities all across their locations but we wanted to formalize those efforts," said Craig.
"Cactus Cares has four pillars of support. community renewal, scholarships and education, hunger relief ,and leadership.
Hunger relief is the larger effort working with rural food pantries like this one in Syracuse. Making sure they have a sustainable protein supply," said Padgett.
Padgett continued, "We source the meat from our university lab partners through our POWER program. Protein Outreach With Educational Resources. We purchase the protein from our on campus meat labs. It's all USDA certified and we donate it to local food pantries. Every dollar we spend supports Ag education, animal science, and meat science programs that are so critical to agriculture and food production. And gets those food pantries the protein they need."
West Texas A&M was where it started. An employee knew a food pantry looking for ground beef. So they began looking for places to source it from and it expanded from there to other universities in Texas, Oklahoma, Nebraska, Iowa, and Kansas State University.
Cactus Feeders supplies the salaries of Craig and Padgett on the for profit side. While they have responsibilities for Cactus Feeders, Cactus Cares is their part time job. So any money raised for Cactus Cares goes directly to serve the programs they do.
They have served almost 450,000 pounds of meat since 2020, and they love what they do!
Craig said, "At the end of the day we all share the same things and that is that we are taking care of our communities together."
"I love helping. It's a calling for me. It's hard that there are more hungry people than we have food for," said Ra Vernon, Hamilton County Food Pantry Board Member.
If people want to donate, they can drop off from Monday through Friday at the Extension office, or have other donations call 620-384-7541.