DAVIS MOTORS CELEBRATES 76 YEARS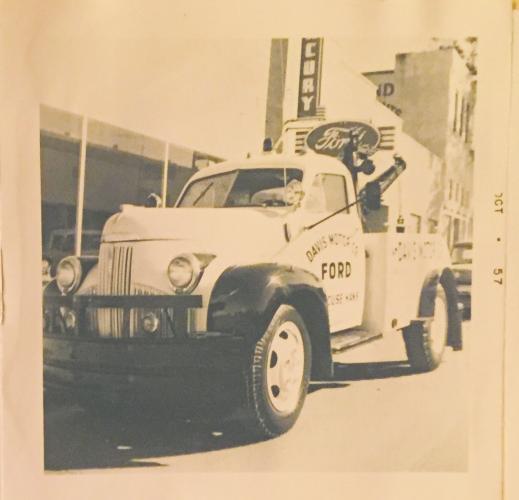 It is not often a community can celebrate a business that has been in a family for three generations, but this week we honor Davis Motor Company as Business of the Week. Davis Motors is the last, and oldest family owned Ford business and has been a part of Syracuse for 76 years. The dealership was recognized in Nashville, Tenn. in February, 2019, for 75 years in business.
In addition to new and used vehicle sales, Davis Motors is a full-service vehicle maintenance business, excluding body work, and currently have ten employees. They closed down their body shop in the mid 1970's.
According to current owner, Mark Davis, son of Ron and Sue Davis, his grandfather Ray Davis and Roll Bray formed Davis-Bray Motor Company in 1939. At that time, they would travel to Saint Joe, Mo. to purchase cars, then they would tie them together and head back to Syracuse.
Initially the Ford franchise was Hastings and Lane, named after the late Blythe Lane, and was located in the former Tony & Son's Body shop. In May 1944, Davis-Bray received the Ford franchise and in 1949 Ray Davis bought out his partner, Roll, making it Davis Motor Company.
Brent Gould built the current Davis Motors building in 1949 for his Dodge Plymouth dealership until 1952 when he moved it to Liberal. Ray Davis purchased the building from Gould and it became the home of Davis Motor Company acquiring the Mercury franchise in 1953.
Mark was told the story that on his first birthday around noon, a fire started in the service department from a fuel tank that was pierced by a lift and the pilot light of the steam cleaner ignited the fumes. When it exploded, it blew the showroom doors open and broke several windows, helping provide oxygen for the fire.
The fire was extinguished by the City of Syracuse's newly purchased 1958 fire truck from Davis Motor Company. That was the first fire fought with the new truck. "It's too bad it didn't burn to the ground that day because I still have roof problems today in the area of that fire," said Mark.
Mark's father, Ron, returned from the Navy in the Summer of 1958 to join his father Ray. Mark followed suit, returning home from the navy in 1987 to join Ray and Ron.
Mark has been a member of the Kansas Automobile Dealers Association for over 25 years, representing the new car dealers of Southwest Kansas, educating legislators about the challenges of small dealerships.
Their trade territory with Ford encompasses, Kearny, Greeley, Wichita, Stanton, Grant, Stevens, Morton and Hamilton counties in Kansas in addition to Baca and Eastern Prowers counties in Colorado.
Is retirement near? Mark said, "Not really, I need a reason to get up each day. He and his wife Donna have two sons, Jeff, wife Mary, Randy and wife Brittany and two grandchildren.
Last week a gentleman stopped into Davis Motors, to introduce his wife to Mark. Mark had helped the gentleman back in 1994 when his car broke down on his way to Arizona.
The gentleman was headed west to start a new job and the fuel pump quit working. Davis Motors had the fuel pump in stock and they installed it, even though the man admitted he did not have the money to pay.
Mark told him to send him the money after he started his new job and was back on his feet. Mark did, in fact, receive the money and he went on to say, "Having a teary-eyed customer drop in to say thank you after nearly 30 years, is the type of customer who keeps you getting up every morning."
Mark has worked hard to be one of the largest generator of retail sales tax in Hamilton County, and also fights to keep our community growing and prospering. "As one prospers, so do we all," said Mark.