FALL CROPS HURT BY HEAT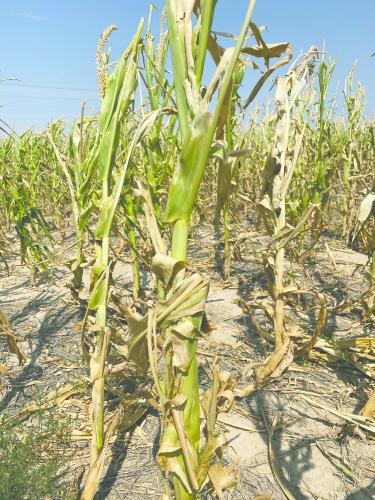 Area farmers are struggling with this year's fall crops. Most of the dryland corn is failing. And the milo is struggling. I spoke with farmers from around the county to get their perspective.
The first two cuttings of alfalfa hay didn't do well. They fought hail, high winds and high heat. "Normally we cut 1.75 tons per acre, we cut .80," said Scot Schwieterman.
"Our third cutting was better than our first two combined. Now with a cold front coming through, we are deciding when to plan the fourth and can we get it cut before a freeze."
He added, "While we are blessed with irrigation, the hard water from the river means we need a rain to flush out the salts."
It's so bad in the southwest corner of the county Ed Westeman didn't plant any fall crops. "We didn't have the moisture. Let's put it this way, from July 1, 2019 to the end of corn planting, May 25, 2020 we had a total of 3.89 inches of rain. And the largest rainfall was .44 inches."
Westeman added most of the southwest dryland crops won't make it. They burned up.
Up north, the corn is bad. "We got spotty rains. A good rain could help the milo along with seeding the wheat crop. There is some submoisture but a rain of about an inch along with a second rain would do us good," said Heath Boy.
Darrin DeWitt said, "The milo was really hanging in there till about ten days ago. The heat has taken it backwards and I have seen that county wide. "
And the corn? "If you were lucky enough to get under that last rainstorm you might have a crop but most of it is below average."
Randy Levens farms south central Hamilton County and said, "I have had rains most haven't. Most of the sorghum looks good. It was too dry to plant corn and the price of corn has dropped."
Ken Keller added, "If we got a good rain two weeks ago it sure would have made a difference. The milo is struggling to head out. We missed a lot of good chances of rain. And in this part of the country we can't afford that."
Gordon Einspahr said, "I think if we got a drink of rain, some of this milo could surprise us. I wouldn't count us out yet."
Matt Overturf, Director of Grain Marketing for Skyland Grain said, "With exports to China continuing, milo will remain strong. The corn depends on how we finish. It looked good till about July 15, and then we lost bushels."
The poor drought stretched crop will mature for harvest sooner than an average year.
Pray for rain!