Fall Harvest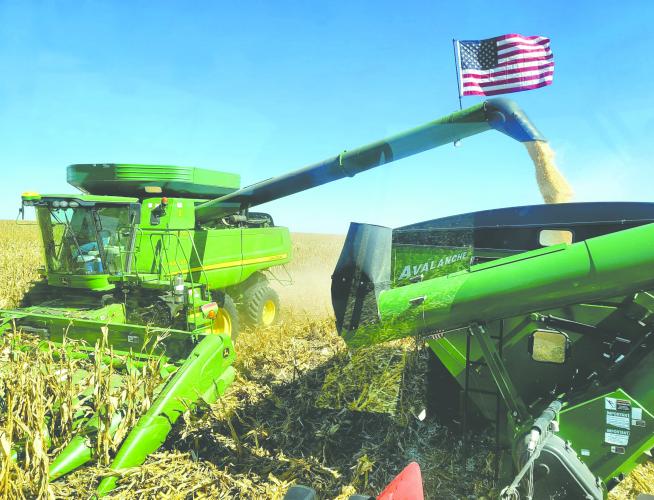 It's mid October and fall harvest is in full swing. Almost all of the corn has been picked and before the storm on Tuesday night, farmers were hurrying into the field to harvest the milo.
Local farmer Jess Schwieterman said, "We are 70% done with our corn. Haven't gotten to the milo yet but it's all similar. Due to a lack of subsoil mositure and shortage of rainfall, some places are decent and some not so good. Two fields could be a couple miles apart and one's a zero and the other's a hero. It's variable. We had rains during wheat harvest but they were .20 or .50 inch. We never got a 2.60 inch rain.
Randy Levens reports from south of town, "The corn averaged 57 bushels following Milo and 105 bu/ acre following wheat. The milo is running between 57-86 bu/ acre. Test weights have been good corn and milo are both 55-57 lbs. I am probably 70 percent complete. Moisture hasn't been an issue at all. There was nothing above 12.4. We will be able to keep going as long as weather permits. And the wheat is spotty east of highway 27, probably 50-70 percent stand in spots."
Then on Tuesday night, a strong storm came in.. Rain in town measured 1.40 inches at Janice Simon's place.
In the northwest part of the county, a half inch was recorded at the Boy farm along with some small hail.
Towards the south, there was 1.24 inches and Westemans had .46 of rain. But the big winner was John and Marcia Ashmore with 1.65 inches of rain.
Small hail fell as well about four miles north of Syracuse.
The storm brought well needed rain and with it, concerns now that the winds and rain have laid down the milo.
Darrin DeWitt added, "The rain was a blessing but not a blessing as harvest is in full tilt. Milo yields are surprisingly good. And the corn was disappointing.The soybeans planted in the north part of the county didn't get any rain. They looked great in August but then no rain at the end of August shrunk them. Yet they surprised me. That heat and wind at the end of August just cooked things."
photo by Trudi DeWitt