HB2350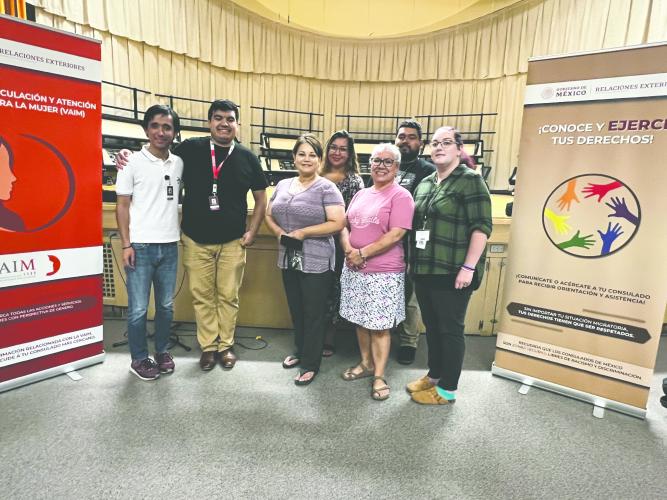 Pictured L to R - Carlos Huato, Antonio Banda, Sally Catlett, Griselda Sigala, Erica Rodriguez, Frank Garcia, Shelby Hernandez/photo by Michele Boy
House Bill 2350 is an anti-human trafficking law that went into effect July 1, 2023. Originally it had been vetoed by Governor Laura Kelly due to the ambiguous language.
Many locals are living in fear that they may be deported or unnecessarily detained by doing basic things like driving a friend to a doctor's appointment in Garden City, or helping give a ride to a family in need. If the driver receives compensation for fuel, it could be misinterpreted. Fears of racial profiling also raise concerns.
Two men from the Mexican Consulate in Kansas City, Carlos Huato and Antonio Banda, came to the McCoy Auditorium to answer questions and help explain the rights of the Mexican immigrant community to them. However, there was a last minute time change which left many unable to attend the meeting.
The most important information shared was to make sure your documents are up to date. If you are stopped by a law enforcement officer it is important to comply. You do have the right to not speak, simply say I want to speak to my lawyer or the consulate. The consulate will refer you to lawyers who help in these matters. It is important to note that officers can only ask the driver for identification, not passengers.
The KC consulate serves over one million people.
Appointments will be made available at 6:00 PM Mountain time.
There are three ways to contact them. First, call 424-309-0009. Second, use the same number to send a message on What's App. Third, create a profile on citas@sre.gob.mx Put zip code 67878 in and choose the Kansas City office.
First time applicants need their original birth certificate, proof of address and a photo ID. A school certificate or voter ID works too.
This is for the people of Mexico only. The phone number for the Guatamalen consulate in Denver is 303-629-9212.