Heartland Tri-State Bank Branches to Reopen as Dream First Bank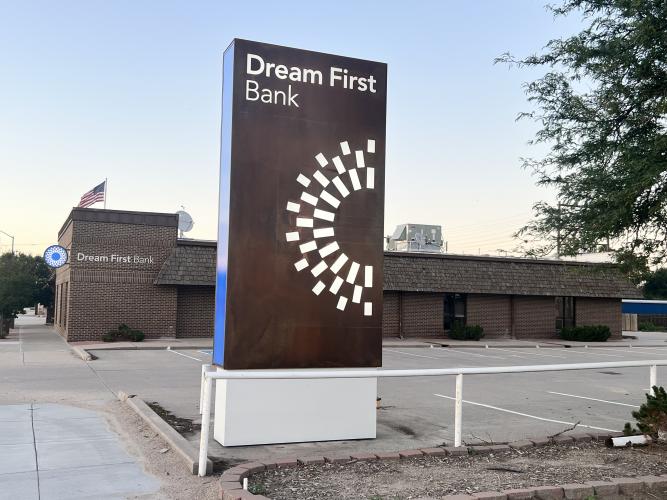 On Friday, July 28, Heartland Tri-State Bank of Elkhart was closed by the Kansas Office of the State Bank Commissioner, and on Monday the branches will reopen as Dream First Bank.
To protect Heartland Tri-State Bank depositors, Dream First Bank has entered into an agreement on July 28 with the FDIC to purchase and assume all deposits of Heartland Tri-State Bank. Heartland Tri-State Bank employees and customers are being welcomed to Dream First Bank during the transition. Now a part of Dream First Bank, each of the former Heartland Tri-State Bank branches will continue to provide personal and business banking services to the community.
"At Dream First Bank, we understand this is unexpected news for Heartland Tri-State Bank customers. Most importantly, I want to confirm that the Heartland Tri-State Bank employee jobs, deposits and banking relationships are not affected by today's news," said Chris Floyd, President and CEO of Dream First Bank. "Dream First staff will continue to provide exceptional customer service and be available to answer questions that employees and customers may have."
Depositors of Heartland Tri-State Bank have uninterrupted access to their money by writing checks or using existing ATM or debit cards. Checks drawn on the bank will continue to be processed. Depositors of Heartland Tri-State Bank will become depositors of Dream First Bank, so customers do not need to change their banking relationship to retain their deposit insurance coverage. The four branches of Heartland Tri-State Bank located in Elkhart, Rolla, Arlington and Attica, Kansas will reopen as branches of Dream First Bank, National Association, on Monday, July 31, under normal business hours.
For more than 100 years, Dream First Bank, formerly known as First National Bank of Syracuse, has been serving Southwest Kansas and beyond.
The Dream First Bank staff understands that being in our communities comes with a great responsibility to do more than just meeting the financial needs of southwest Kansas.
"Dream First Bank has an extraordinary commitment to its customers and our vision of helping people. It meant a great deal to us to be recognized by the Institute for Extraordinary Banking and trusted by the FDIC to step in and help in this situation," said Chris Floyd.

Additional details on this bank news are available on the FDIC site herehttps://www.fdic.gov/news/press-releases/2023/pr23058.html