JL Farms Wins State and District Awards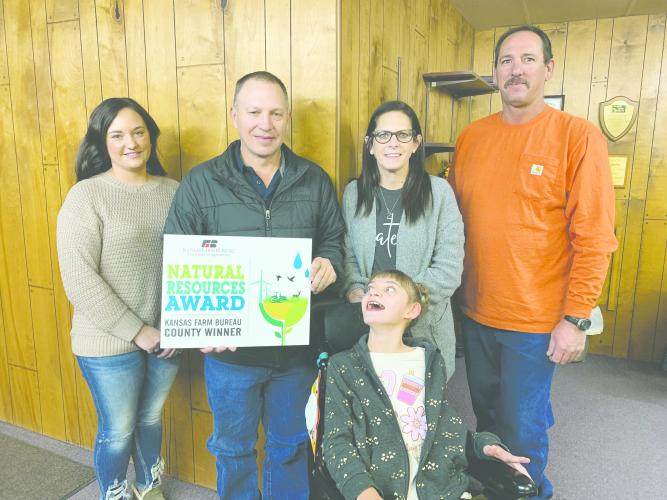 As a farmer, being a good steward of the land is one of the most important responsibilities. This term is often used in conservation circles, but some people may not even realize what that term means. Simply, a steward is a person whose job is to manage or look after the land and property of another person. This can be challenging even when moisture comes at the right time, but living in southwest Kansas, we know the need for moisture is always present, and this winter is no exception.
Each year, Kansas Farm Bureau seeks to recognize those who demonstrate innovative agricultural production and resource conservation through their Natural Resources Award program. This program honors members using time-honored and cutting-edge conservation practices to protect and improve our state's natural resources.
Local farmers, Jess, Laryce and daughter Avery Schwieterman, JL Farms, were selected as KFB's District 9 Natural Resources Award winners. District 9 includes Finney, Grant, Greeley, Hamilton, Haskell, Kearny, Morton, Stanton, Stevens, Seward and Wichita counties. They were recently honored at the monthly meeting of the Hamilton County Farm Bureau Association's Board of Directors and presented with a sign to display on their farm.
The district winners are then forwarded to the State Environmental and Natural Resources (ENR) Committee, who select the first, second and third place state winners. During the recent KFB Annual meeting in Manhattan, the Schwietermans were recognized as third place in the state, receiving a monetary award, plaque and lodging during the event.
They began farming in 1998 with the help of a local farmer who was retiring and in 2007 were able to expand their operation. They currently farm wheat, corn, grain sorghum, and occasionally sunflowers. Two hundred and forty-two acres are irrigated, the rest dryland.
Because Hamilton County is known for its arid climate the management practices they have implemented come back to conserving and preserving moisture. Minimum and no-till is a large part of their operation, and over the past few years they have begun spraying pre-emergent chemicals as early as February to keep the ground as weed free as possible.
They explained no matter what is growing on a field it robs moisture, so their goal is to retain that moisture for the growing crop. While cover crops are used in the area, with the climate and experimenting with cover crops, they feel the cover crop take too much moisture and the growing crop's production after the cover crop suffered.
Crop rotation has been their best defense in preserving the natural resources. Over the years, they have been able to increase the organic matter in their soil from .7% to 1%. This increases the fertility and moisture retention.
They have been a part of the Conservation Stewardship Program through the United States Department of Agriculture, using it to help them stick to a cropping plan, and to implement grid soil sampling and tissue testing to see if the crop is making use of the fertilizer that is applied.
During wheat harvest, they use stripper headers on the combines, which strip the grain off the head, leaving the entire stubble helping in multiple ways to preserve natural resources. The stubble helps keep the ground shaded more in the summer so less weeds grow and helps with greater snow catch in the winter, and provides an excellent no till environment to plant a row crop in the following spring.
Another plus of both crop rotation and using stripper headers is keeping the ground covered as much as possible. Losing topsoil to wind erosion can have detrimental effects for many years so any residue left helps with wind erosion.
While the Schwietermans are mostly dry land famers, they do have two irrigated circles in Kearney County, 25 miles from their farm. To conserve as much water as possible, they converted the wells to electricity with variable frequency drives and use online software and an app on their phones allowing them to start and stop the wells and pivots from anywhere. The electronic rain gauge on one of the pivots so they can shut down the wells and pivots when it rains.
They feel seed selection is a critical in preserving natural resources. They work with both Kansas Wheat Alliance and Plains Gold from Colorado to grow and produce good quality wheat seed that thrive in southwest Kansas. Drought tolerance and disease resistance to diseases like Wheat Streak mosaic are high priorities.
"With miles of flat ground and many fields bordering neighbors' fields, good stewardship is important because the decisions that we each make can affect all those around us," said Jess.
As with many farm operations, it is truly a family operation. The Schwietermans have two full time employees along with part time summer help while Laryce is responsible for the accounting and recordkeeping for the operation. Efficiency is also gained with good record keeping, knowing what seed was planted on what field, the amount of fertilizer, tillage passes and chemical application along with yields. "Our employees are a very important part of our operation," said Laryce.
They also run a certified seed wheat business and sell Hoegemeyer corn and milo seed. They feel the seed business has been a good addition to their operation because it allows them to try varieties that address issues in southwest Kansas and provide a local source of seed.
All their field records are documented while they are in the field with use of GPS and on-board precision farming. This is then put into a bookkeeping program in the office so when it comes time to make selection of seed, fertilizer, and chemical programs they can use the records for greater efficiency.
Sustainability is also a phrase that is thrown around a lot, but at the end of the day sustainability and profitability are one in the same. They both agree everything they do has to make sense financially or they could no longer be in business.