Local Love's Brings Home Multiple Awards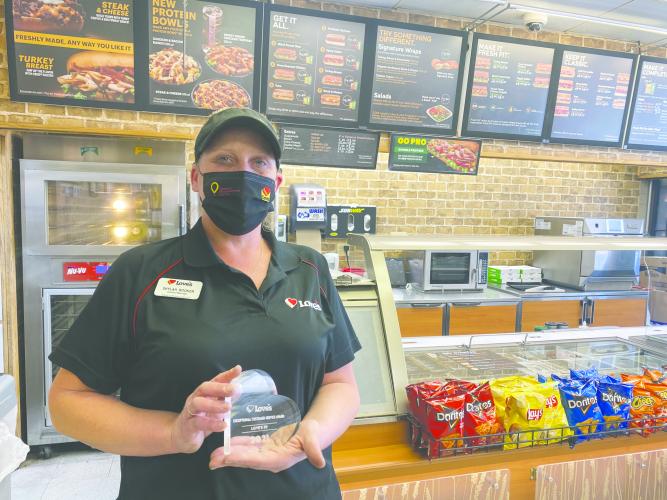 2020 may be remembered for the challenges brought upon the world. But our response to them is what defines us. And our local Loves Convenience store rose to the occasion as they won severeal awards.
Last week, they received the Exceptional Customer Service Award for the year 2020.
General Manager Shylah Booker said, "I was surprised and shocked. We worked hard throughout 2020 to keep the store clean and safe. We kept the store maintained well to get customers in and out quickly."
The convention was held virtually this year due to COVID-19 restrictions.
District Manager Stephen Webster said, "Because of this crew I was not surprised. They keep the store clean, have great cusomer service and do a great job."
Webster is manager to ten stores across Colorado, one in New Mexico and Syracuse's own store in Kansas.
Booker said, "I want to thank the community for their support working with us through 2020 and we are looking forward to an amazing 2021."
Earlier in the year, Melissa Trussell won a couple awards on her own. On April 29, 2020, Trussell won the Frontline Hero award. Booker said, "She worked side by side with me making sure regulations were follwed and customers were taken care of. Melissa took it all in stride.
In July/August, Melissa was spotted doing something great and won their On the Spot Award.
And former employee Deanna Hunter received a Mystery Shopper award on cleanliness of bathrooms in December 2020.
Shylah Booker has been the manager of Loves for almost three years. She manages eight employees. The store was in the top half of stores of the Convenience store division which includes 75 stores.
Booker added, "It was a lot of hard work but we pulled through. We have a great team."
Love's was founded in 1964 and headquartered in Oklahoma City, OK.