New Radiologist at Hm Co Hospital
Last week we met the Medellin family. This week I would like to introduce the Harris family.
Nikki Harris, Imaging Technologist who is multi-modality trained in X-Ray, cat scan and MRI is pleased to be providing services at the Hamilton County Hospital as of February 21, something that has been missing for several months. She is proud to bring with her experience she gained following competition of the radiology program at the Great Plains Technology Center, Lawton, Okla.
Nikki learned of the opportunity at Hamilton County Hospital through a mutual friend, who had a friend that worked for the Carter Professional Group and asked if I would be willing to relocate to Kansas. Harris and her husband were both very busy with their jobs, "It seemed we were passing in the night!" she said.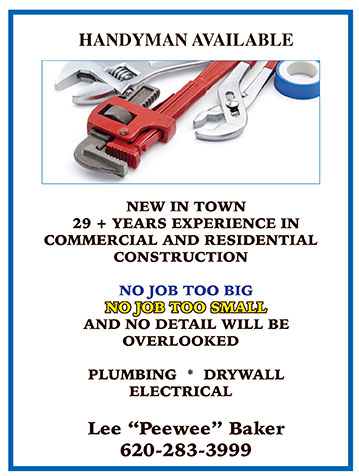 Her work experience includes Mercy Hospital, Ardmore Okla. in addition to OU Medical Center in downtown Oklahoma City. "Mercy Hospital was a great starting place for me, it had the family type atmosphere and patient care was led with their heart, and that is something I took with me from there," said Nikki, "I lead with my heart and while some hospitals get in a hurry, this was a place where the patient was first no matter what, it's important to me."
While the OU Medical Center provided a somewhat different environment, involving a fast-paced work environment and trauma, she admits she was intimidated, and nervous, because she had not worked at a large hospital. "But that is where I gained my confidence and learned how to be ready for whatever walks through the door," she said, "I saw a lot of trauma which can seem kind of rough around the edges, but it was a very efficient system, and still today, the lessons and routine I learned there gives me the confidence and prepares me for the day to day operations of a hospital."
She called and interviewed the next week. "My husband Danny and I stayed at the Boarders Inn and felt welcomed right away." They noticed how the community was supportive of each other and how everyone spoke highly of each other, "It felt like home already and we even stayed another day, we didn't want to leave, it felt like God was pulling us here and there was no reason to say no!"
"I was also impressed with the equipment the hospital had, and I knew I could use my skills and help the community." said Harris. They also toured the school, meeting some of the staff and noticed the class sizes were smaller, the fact the community supported the school, something like what they experienced growing up in the small town of Cache, Okla.
While attending high school, Nikki loved to play all sports available to female athletes, softball, basketball, soccer track and cheerleader. Graduating from Cache in 1998, she attended Cameron University in Lawton, Okla, on a softball and cheer scholarship, studying history for two years and later decided to attend the VoTech school for radiology.
One of the highlight's playing softball was the opportunity to play in Australia in December of 1999, "It was summer there but actually Christmas time here," she explained, "My summer travel team went to a national tournament and we were recruited to play in Australia and they were preparing for the summer Olympics in 2000 so we got to tour the grounds."
She and Danny married right out of college in 2006, moved to Ardmore and she began work at Mercy Hospital. After one year, they relocated to Edmond, Okla., where Danny attended Tulsa Welding School, and she began working at OU Medical Center.
Their family includes three sons, their oldest is a freshman in college in Miami, Okla., studying criminal justice, with a goal of becoming a highway patrol. The 11- and 12-year-old are adjusting in elementary school and are looking forward to the summer which will include 4-H. "We had our first meeting over the weekend, becoming members of the Willing Workers. The boys have several projects, one enjoys woodworking and photography while the other likes anything having to do with animals."
"It was an interesting story how we met John and Amy Welch. My husband applied at the Syracuse Feed Yard and received a call saying because of his qualifications, they did not feel they could pay him what he was worth. So they suggested he talk to John at Ark Valley Oil," said Nikki.
John and Danny talked, and he was offered a job. Due to housing shortage for a family with a horse, goat, and a dog, they decided to leave pets in Oklahoma, bring their camper, stay at campground until they could find something. "John called soon after and told us they had some land to park the camper and it had everything we needed, it was a touching moment!" said Nikki, "God was at work, the way they came into our lives. It solidified that this was a community we wanted to be a part of."
"An added bonus is we have great neighbors, one is the Carlos and Carol Limon family who have been very helpful, they even let our son feed their bucket calf and are going to let him show it!" said Nikki, "And the Hatcher family is letting our son help with their horses."
Growing up in a small town, she remembers the community coming together for events, some of their favorite were the rodeo and western days, chili cook off and they are excited for their boys to experience small community life. Their youngest is signed up to play SYAA baseball while the oldest anxiously awaits the opportunity to play football.
While the Harris' are a busy family, they enjoy getting away to go skiing with family in the winter and are excited to be closer to the mountains. "My husband, a good golfer when we started dating, took me on our second date to the driving range and was trying to show me the game, but as kids came, he put that to the side," she said. They have been to the course a couple of times and are looking forward to getting back out.
"The staff here bring a lot of good experience, and everyone has been very easy to work with," said Harris. Her plans are to bring some things up to date, making sure everything is running as efficiency as possible. "They have some really good equipment here, and I think with just a little tweaking here and there, I will be able to utilize all the equipment."