No One's A Stranger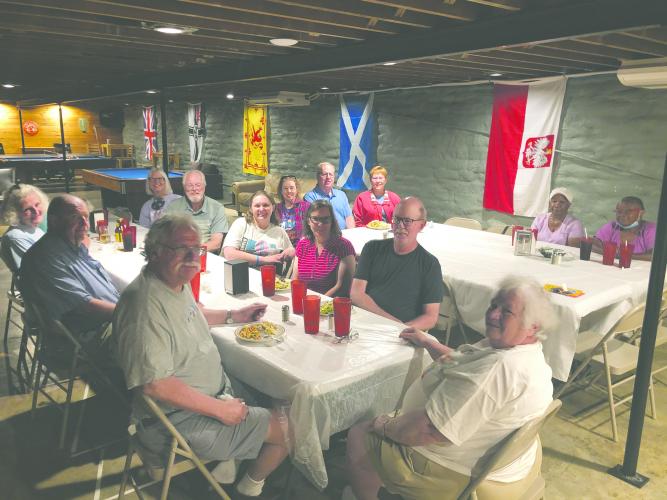 Last Saturday a small group of walkers descended upon Hamilton County. Walkers or Volksporters, walk 5k's or 10k's all over the country, some all over the world.
This particular group was led by the Sunflower Sod Stompers from Topeka. Their walk began and ended at Boarders Inn and Suites where many stayed the night.
The Hamilton County museum was a checkpoint for the walkers. And they were grateful for Museum Director Joanice Jantz's friendliness, kindness and knowledge of our community.
"Joanice was wonderful. We enjoyed the museum especially the dolls."
Comments about Syracuse included, We really enjoyed seeing how it's such a child centered town. with parks and the fairgrounds and the walking path.
Volksporter Sarah Long said, "Your walking/bike trail is comparable to Boulder no cracks. It's a good bike trail."
The walkers came from TX VA CO Wichita and more.
Of course someone is always related to someone from western Kansas. Ramona Ward of Topeka is related to Moran Tomson.
They were in the process of walking five counties over the weekend - Garden City, Lakin, Syracuse, Johnson and Ulysses
Many have walked all the capitols of the United States. Some are in the process.
They range from retired Department of Defense to retired nurses to those stationed overseas.
Interesting stories include walking into the Kilauea active volcano in Hawaii. They walked into the crater and walked out. People still can't believe we walked through an active volcano. They walked the International peace border 5K in Niagara Falls bridge into Canada
Wildlife sightings too. In Alaska bear sightings and moose. One was a moose and her baby eating flowers .
In Alberta Canada where one went eyeball to eyeball with an elk. There was coyote in Alburqueque, a diamondback snake in New Mexico, and alligators in Texas.
Some history was given. Volksporting began in 1960 in Bavaria. Since the best athletes run away with all the medals. Anyone who can walk 3 or 5 miles can get recognition collect stamps American military servicemen and women took it up and brought it to the US
They used to get medals or patches and plates and mugs overseas. But the competition brought out professionals. So they changed it because they wanted it to be a movement. Now you collect stamps whereever you go. And friends, all over the country.
"We take a lot of pictures and keep up on Facebook. One writes a blog with everything from personal accounts and pictures to inspirational and motivational quotes," said Blogger Susan.
Six Best Doctors In the World - Sunlight, Rest, Exercise, Diet, Self-confidence and Friends."
[A 1996 book by English professor Wayne Fields,titled "What the River Knows: an Angler in Midstream," includes a nursery rhyme closely matching the "six doctor's" saying (page 66)...The same nursery-song version, under titles such as "Doctors Six" or "the Six Good Doctors," was published in journals as far back as 1909."]
Terri Tyler said, "My mother started the club in 1984. I started in 1979. I have made friends all over the US. After I lost my dad ,my mother and I started in Ohio at a festival. I was living in Ft Leavenworth, I would teach PE at school all week We would pack our bags and head to St. Louis or somewhere for walks and vacations. I taught for 44 years. Before my mom passed, she got to see Alaska and Hawaii, something she never thought she would do."