NORTH HIGHWAY 27 PRODUCTIONS CELEBRATES FIRST ANNIVERSARY OF OWNING THE SYRACUSE JOURNAL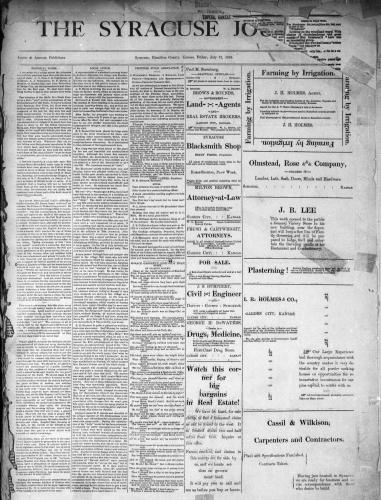 It's North Highway 27 Productions one year anniversary of owning the Syracuse Journal. If you pay for your subscription by credit card, paypal or square, you may notice the name.
In the past year we have changed, a lot! We switched printers, moved locations to downtown Main Street, upgraded our website which also includes translations into several different languages, and upgraded our subscription service.
We added a new colunmist about six months ago, Bethanie Popejoy, helping to keep you connected to our past.
Reporter Krista Norton is out on the street getting the details on important news, Kim Urie takes care of our bookkeeping, Marcia Ashmore studies our history, Mecia Luebbers and Denise Keller cover the sports photography and statistics when Krista and I cannot. And finally, I try to search for the stories you want and need to know and put it together in a legible manner.
A special shout of gratitude to Evelyn Drew who volunteers when she can and who I couldn't have done without her joyful spirit. Juana Bustillos also helped me transition the paper with her generous emotional support and her editorial assistance. Thank you to the high schoolers Ryan Thompson and Emma Heglin who gave so much of themselves to the paper last winter.
There are others behind the scenes who choose to be nameless but are invaluable to me.
We added a new column this week concerning all the scams that go on and all the red tape, sometimes problem solving needs some assistance. Let me know what you think.
We have been overwhelmed this past year with calls, emails and lettters. We have given back to the community too.
During the past year of COVID-19 shutdowns, we were able to help give $900.00 away to local families and college students.
We are proud to keep you connected, to keep growing and changing.
The need for up to date obituary infomration and other important updates keeps us on social media as well.
As we look forward to the coming year, our hope is to get the microfische digitized for better archives.
The Syracuse Journal is celebrating 136 years of continuous publication.
As daily newspapers focus on national news, we are proud to offer a product that is independent local journalism which promotes the good of the community, informs you about the issues that affect you, and gets you involved with the children of our community as best we can.
Cheers to our first anniversary! And thank you for your support!