Redeeming Grounds Grand Opening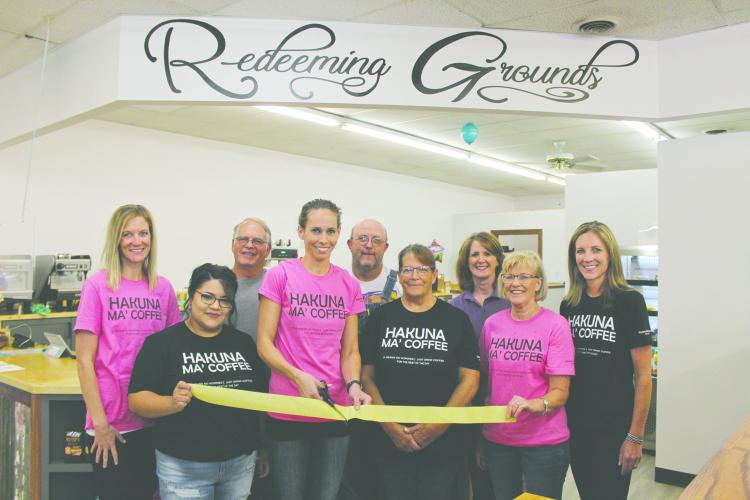 Redeeming Grounds held their grand opening on Friday, September 18. Located inside Hamilton County Drug Store, Redeeming Grounds offers specialty hot teas, iced teas, frapps, smoothies, lattes and several more specialty items. In addition they offer fresh ground coffee in light, medium and dark varieties as well as caramel and chocolate flavors.
They offered free mugs with a purchase to the first 75 customer and owner Kellee Dixon was pleased they had a constant line from 9:00 10:30 am, giving away free mugs with purchases.
Jessica Young, who moved to Tribune from Chicago, has worked for Dixon Drug owners, Chris and Kellee Dixon for 14 years, dreamed of opening a coffee shop. So, after two and a half years of praying and researching, she opened up Redeeming Grounds in the drug store in Tribune.
It was a great addition to the store, and since the retail items in the Syracuse location were not moving, they began remodeling the location to accommodate another Redeeming Grounds.
When you enter the drug store, you will notice the store is divided into two parts, with two entrances. To the left is Redeeming Grounds, and straight ahead is the drug store. As you enter Redeeming Grounds you are greeted with brightly decorated walls which include variegated tin and the counter has barn wood from Jessica's grandparents' farm.
The current hours of Redeeming Grounds is 9:00-4:30 but once additional glass separating the two businesses is installed, their hours will be 7:00 am to 4:30 pm. The glass in is for security and privacy for the drug store customers.
Kelly Dixon commented, "It's wonderful that we added to our business, hopefully it will bring foot traffic in and people will enjoy having a cup of coffee and people will enjoy visiting," she added, "It's a happy place!"
If you are not familiar with their products, according to Young, an expresso is a strong, bitter concentrated form of coffee and is made from the same coffee beans.
Lattes have coffee in them, milk, in addition to flavorings. They can also be made cold or over ice which makes it less bitter.
Their vanilla bean frap is blended in a blender with a powder and flavorings. Many people enjoy a frap topped with whipped cream and a flavored syrup.
Their tea is unsweetened, but they can add mango or raspberry to it. Young shared their customers are pleasantly surprised when they try their smoothies, commenting how fresh tasting they are.
They will feature seasonal flavors and now offer pumpkin spice and maple lattes. Be looking for special flavors around Christmas time as well. If you prefer sugar free syrups, they offer them also.
They reward their loyal customer with a punch card where they purchase ten cups of their specialty items, and the eleventh one is free.
Retail items available for purchase are coffee mugs, whole coffee bean coffee and tee shirts with the logo "HAKUNA MA'COFFEE" and underneath the wording explains: It means no worries, just drink coffee for the rest of the day.
They also have available juices, breakfast sandwiches, scones, bagels, sausage egg cheese croissant and on occasion, cookies and cinnamon rolls. You are welcome to call the Hamilton County Drug, when in a hurry, and they can begin to prepare your order for you.
"I feel like coffee makes people feel happy, and it helps to have a connection with someone," said Young, "My heart behind it is to bring a bright spot to someone's life."