Sigala Becomes New Clerk of the District Court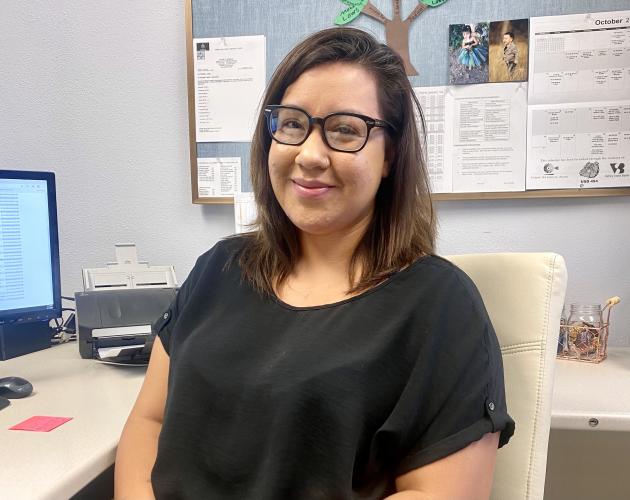 On September 20, 2021 Griselda Sigala became the new Clerk of the District Court replacing Glenda Cheatum.
"I love it," Griselda said.
Born in Mexico, Griselda has little memory of living there as she came to America with her parents at the age of five.
"My dad farmed here and wanted us with him. So we came illegally," said Griselda.
Her parents are residents of the United States and she has two sisters and a brother here as well
Griselda has a passion for criminal justice and knew she needed to become a US Citizen to pursue her dreams.
"I love the law. I was a dispatcher in Tribune then applied at the District Court as Deputy Clerk under Glenda Cheatum. But Glenda had taken leave. So I was trained by a clerk in Tribune for two weeks."
Glenda had served for the 25th district court for 16.5 years.
Griselda is a smart strong woman who has not let anything stop her. She had Aly in high school in her sophomore year. Then she graduated SHS in 2012. Later after she married Martin Sigala she became a US citizen.
She had one semester left at Garden City Community College but postponed her continuing education to give birth to her second child, Eli..
Griselda makes community service a priority too. She has served on several boards.
Right now she serves on the site council for the school, the food pantry board, the FACS PDC committee and on the Extension Council Executive Board.
Her skill set includes being bilingual, outgoing, friendly, willing to learn and approachable.
She is interviewing possible candidates for the Deputy Clerk position in the coming weeks.
She is looking forward to learning more and loves this side of the system.
"I worked dispatch and saw the beginning of the process. I answered the calls and saw the arrests. Now I get to see the rest of the process. And I enjoy the work very much."
And how does her family feel about the new job? Her husband Martin said, "Hearing the news my wife got her promotion as Clerk of the District court was great. She's a woman that works hard, strives to do her best, not only at work but as a wife and a mom. She's always going above and beyond carrying great responsibility especially in the job I have where I'm not able to help her with things at home and with the kids. It takes a great individual to deal with tasks at work and also at home."