Syracuse Welcomes New Doctor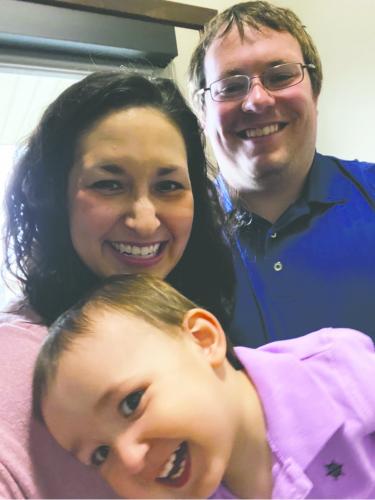 Welcome Dr. Tyler Stephenson, his wife Staci, and their 18 month old son, Felix.
Physician Assistant Brandee Werth said, "We have been counting down for Dr Stephenson's arrival. We have been working hard at HCH to make lots of positive changes and Dr Stephenson is completing a huge piece of the puzzle. He has small town friendliness, compassion for his patients, and knowledge in multiple areas of medicine. He is a huge contribution to the hospital and the community! We are excited to welcome him and his family to our hospital and hometown!"
A recent graduate of the University of Kansas medical school, Dr. Stephenson is excited to begin a long and fruitful practice here.
"I hope to be the first doctor in a while that the community can call their own. I understand it has been a long time."
While Dr. Stephenson's focus is Family Medicine, his passion is preventative medicine. "I believe healthy diet and exercise can do far more that most medications I can prescribe."
He added, "I want to empower people to take responsibility for their healthcare.
Dr. Stephenson grew up in Cheyenne Wells, Colorado. His parents were teachers there. After he graduated high school, his parents began teaching in Stanton County. His mom, Glevon Stephenson still teaches there today.
He loves being near family and playing musical instruments.He plays saxaphone, harmonica, and clarinet, but focuses mostly on guitar.
"I am incredibly enthusiastic about becoming a member of the community and hope we can learn and grow together."
Dr. Stephenson has done a few ER shifts but will begin his clinic practice on July 3.
He was set to take his boards in April, however due to COVID-19, he will take them in August.