WELCH BRINGS MILES OF SMILES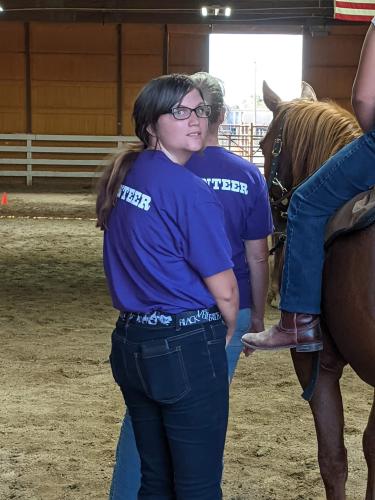 SHS Senior Amanda Welch is volunteering weekly in Garden City with Miles of Smiles. It is a program that offers children and adults with physical, mental, emotional and social disabilities the benefit of therapeutic horseback riding.
Welch has been riding horses since she could remember. Welch said, "They are gentle and sweet. They know when you are upset and can change their movements to make you feel better."
Every Thursday, Welch is paired with another horseman as either the leader or the side leader to help a person with disabilities explore the beauty of horsemanship. The leader leads the horse around the indoor arena of the Equestrian Center with the rider to help them get comfortable. The side leader holds onto the riders legs if they don't feel comfortable.
Welch said, "The first day we had to practice. We watched a video on keeping the rider safe and without injury. I was really nervous because all the volunteers are from different towns. I wasn't nervous about leading the horse. That comes natural to me."
She takes the horse from the pen then put on its halter then walk it to the barn. I brush the horse and clean her hooves as she gets ready for helping many people as well. The horses are very calm and relax and Welch can tell in their eyes they really enjoy helping people.
Depending on the rider there may be two volunteers on each side of the horse keeping the rider balanced. Sometimes the rider needs two people, one or none at all to be beside them. Sometimes the rider doesn't need support or could ask to balance on their own.
They have to remind the riders what to say when to stop or continue the horse into a walk. We play many games as the game last weekend was to go through four cones that would make a pattern, six cones where we have to weave through the cones going through two then the rider have to ask their horse to stop walking. Then going to the last cone they will have to grab a colored ring then we will have to go through all the cones again, they will have to put the ring back onto the post then head back to grab another ring.
Welch added, "It's rewarding. One of the young riders asks me lots of questions and it makes me happy to see them feeling good riding a horse."
As a senior, Welch is a busy young lady working at the Syracuse Feedyard, interning at the Syracuse Journal, intern at the Hamilton County Museum and now leaves early on Thursdays with her mom, Kim, to drive to Garden City to participate in this program.
Many riders will not use the same saddle as people have their own preferences.Some riders will use a bareback saddle, an English saddle, and others western saddles. The bareback saddle will help the rider improve their balance they will start leaning to the side, the side leader will push them back to balance keeping them safe and if they need to ask for a arm we will put our arm on their leg helping them feel more comfortable.
It's volunteers from high schools and colleges. The horses are donated. And the atmosphere is healing.
Every week Welch looks forward to Thursdays. "I can't wait to do more and learn other people's stories and meet more new friends. When I leave to go home I have a big smile and wish it's next Thursday so I can be at Miles of Smiles again."
Miles of Smiles Therapeutic Horsemanship was founded in 1997 by Joyce Adams with the help of a few friends. This year we are celebrating 25 years of serving Southwest Kansas.
At Miles of Smiles, the program serves people with disabilities using equine assisted learning and therapeutic horseback riding. We accept riders over the age of 4, and serve a wide range of disabilities and disorders, including but not limited to autism, mental health disorders, intellectual disabilities and physical disabilities.
Each lesson is based to the riders ability and a horsemanship skill is taught in each lesson. Although we don't provide "therapy" we can work together with schools, counselors or doctors to work on individual needs of the rider. Riding a horse can give a similar movement of walking so this is a great benefit for an individual that has trouble walking or unable to walk.
Depending on the class, we use roughly 12 volunteers for each class. They normally ride for six weeks in the spring and six weeks in the fall.
They have two riders that have been riding with the program since 1997 and several others who have been riding for 15-20 years. It's great to see the progress in the riders that have been riding over the years!
Their annual Walk & Whoa Dinner, Auction & Dance is coming up on October 29th in Garden City.
They are looking for donations for the auction along with monetary donations as well. This year we will have a "wine and whiskey pull" and are also looking for donations for wine and whiskey. Contact us by e-mail at miles_of_smiles@sbcglobal.net, message or call the office at 620-260-9997 for more information.
They are always looking for volunteers to help in a variety of ways. Including fundraising, lesson help (we have volunteer training for those who have never been around a horse!), help on the property, and people to join our Board of Directors. Donations are also accepted year round, including horse sponsorships.