Algene John "AJ" Houtsma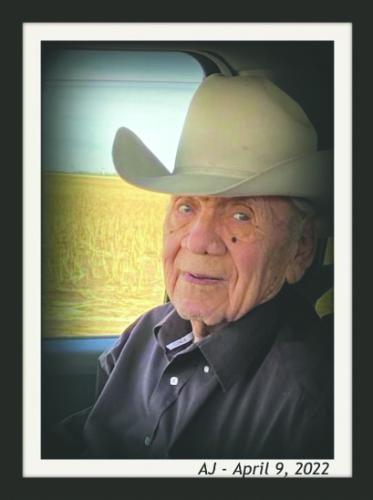 Algene John "AJ" Houtsma, age 87, of Syracuse, KS, went home to be with his heavenly Father on Wednesday, January 11, 2023. The eldest son of Albert Cornelius Houtsma and Gertrude Nora (Rowenhorst) Houtsma, he was born October 11, 1935 in Sioux Falls, SD.
AJ grew up on a dairy farm in Volga, SD, where the Houtsma grain silo still stands. He ended his formal education at the age of 13 with the completion of the 8th grade. Despite a strong desire to continue his education and hopes of becoming a doctor, he sacrificed his dreams in order to help support his family. At age 17, he moved to Santa Ana, CA, where he met Margaret Elizabeth teVelde while teaching Sunday school at the Christian Reformed Church in Artesia, CA. They married on October 3, 1958 and by 1970 had been blessed with five daughters and one son. The family made their home in Spanaway, WA, before moving to Stephenville, TX, in 1979. AJ moved to Syracuse, KS, in 2007, followed later by Margaret, where they enjoyed living near their children and grandchildren.
AJ was a member of the First Presbyterian Church of Syracuse. He will be remembered by his children as a generous, big-hearted father and grandfather. He taught his children to work diligently and encouraged all of his daughters to obtain college educations. He was intensely proud of the dairy business built by his son, Jay. He had a life-long love of animals and agriculture that began with dairy farming. This evolved into a retirement filled with beef cattle and a love of equipment that meant he never missed an opportunity to drive a tractor or jump on a mower. He loved his children but his pride and joy were his grandchildren to whom he spent countless hours dispensing life lessons that will not soon be forgotten. AJ had a great memory and a sharp wit. He was full of charm and friendliness that drew people close to him. He will be greatly missed by everyone who knew him.
AJ joins Margaret Houtsma, his parents, Albert and Gertrude Houtsma, brothers Kenneth and Harvey, nephew David and niece Catherine Houtsma in heaven. He is survived by his children, Debra Houtsma, Jana (Kyle) Reed, Marleen (Wade) English, Jay (Meghan) Houtsma, Krista Houtsma and Karin (Dan) Kullot, 16grandchildren, Aaron Houtsma; Kathryn (Harlan) Hill and ConorReed; Brandon (Kelci) English, Dexter (Brandee) English and Casey (Kylee) English; Juliana Houtsma, Nicolaas (Luly) Houtsma, Alexander and Ethan Houtsma; Mitchell and Matthew Pack; Ira, Will, Carly and Aidan Kullot, three great-grandchildren, Brylee English, Wrenley English and Bexlee English with a fourth arriving soon, brother Gerald (Virginia) Houtsma of Lodi, CA, sister Phyllis Houtsma and nephew Kyle McLeod of Rocklin, CA, niece Kari McLeod of Walnut Creek, CA, and extended family members, all dear to him.
Graveside Memorial Service will be held on February 10, 2023 at 4:00 PM (MST) at the Syracuse Cemetery in Syracuse, Kansas. Reception to follow at VFW Building for family and friends. Join us for dinner and to share stories and remember a life lived to the fullest.
In lieu of flowers, memorial contributions may be made payable to The Artevel Foundation and sent in care of Fellers Funeral Home & Monuments, LLC, PO Box 1253, Syracuse, KS 67878. (620) 384-5100. The Artevel Foundation is a charitable (501c3) organization that was founded by Margaret's parents to promote Christian outreach and education.