Betty L, Warner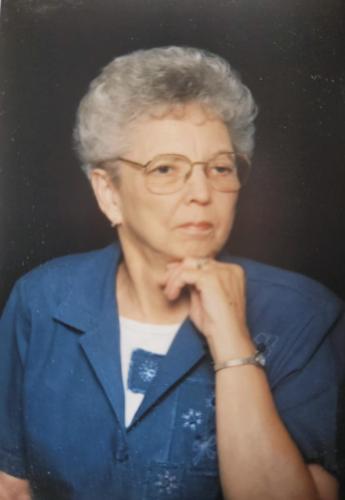 Betty L. Warner went to her heavenly home on January 3, 2022. At the time of her death, she was at the Holiday Resort Care Center in Emporia, Kansas. She was formerly of Ulysses, Kansas and was 88 at the time of passing.
Betty was born on November 10, 1933 in Granada, Colorado the daughter of Mikey and Lola Schale Buhrer. She married LeRoy "Bud" Warner on January 25, 1953 in Syracuse, Kansas. He died in 2001 in Ulysses.
Surviving family members include: daughters, Rita (Tony) Gee of Topeka, Kansas, Judy Dieker of Emporia, and daughter-in-law Ann Warner of LaVista, Nebraska, grandchildren; Justin (Michelle) Gee, Jodi Gee, Erica (John) Aduddell, Tyler (Emily) Dieker, Mark (Laura) Warner and Lori Warner; great-grandchildren; Addison, Traceton, Aiden, Tessa, Colette, Brad (Haley), Nicholas, Brianna, Alexandria and Joe; great-great-grandchildren; Aubrey and Rowan.
She is preceded in death by her husband, son Douglas Kent Warner, grandson Paul Warner, parents, and brother LeRoy Buhrer.
Betty graduated from Syracuse High School. She was a homemaker and enjoyed working on the family farm with Bud. She drove tractors, helped with harvest, and in between cooked incredible and delicious meals. She was an accomplished seamstress, making her own wedding dress and her daughter, Rita's wedding dress, and numerous dresses for the wedding party. Memories of family camping trips always included her delicious cinnamon rolls and Swedish pastries. She also decorated beautiful cakes for family events. After she and Bud sold the family farm and moved to Ulysses she worked as a bookkeeper/clerk/cashier for the local gas utility service. She retired in 1991 from Atmos Energy after working there for over 15 years.
She was an amazing person and touched the lives of many. She was an inspiration to all; so strong and loving. She was truly a soldier for Jesus and an example of enduring faith and unending grace. She was always a go-getter and willing to try new technology right down to learning and administering home dialysis for her husband. Her spiritual strength and grace never wavered even when faced with insurmountable health issues. Family was everything to her. Her legacy of living her life with a profound and firm faith in God during good times and bad, and strong values of treating others with kindness, dignity, and grace, will live on in her family. She was always kind and considerate of others, her gentle accepting presence will be missed.
She most enjoyed spending time with her family. She was an active member of Shelton Memorial Christian Church and assisted in numerous duties in the Church, and she went above and beyond helping at the Senior Center.
Cremation is planned with a memorial service later in the spring in Ulysses. Memorial contributions to Shelton Memorial Christian Church in Ulysses or the American Cancer Society in care of Roberts-Blue-Barnett Funeral Home, P.O. Box 175, Emporia, Kansas 66801. You can leave online condolences at www.robertsblue.com