Brian Christopher Kirby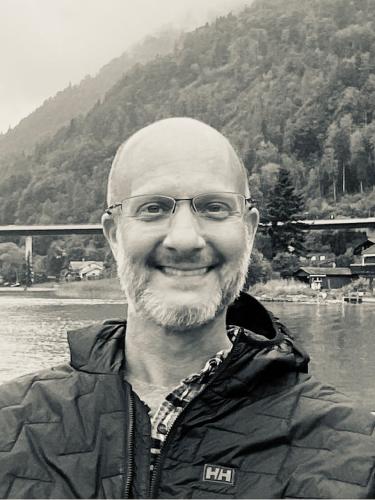 Brian Christopher Kirby, 46, of Steinbach am Glan, Germany passed away unexpectedly on Friday, November 26, 2021, at St. Johannis Hospital in Landstuhl.
Brian was born February 18, 1975, in Syracuse, Kansas, at Hamilton County Hospital, delivered by Dr, C. E. Petterson, the same doctor who delivered his mother 23 years earlier. He loved books; learning to read before staring kindergarten. When he was 2 1/2, his brother Alan was born. They spent many hours riding big wheels in the back yard, eventually progressing to a go-cart they roared around in the parking lot next to his parent's auto repair shop. Brian loved playing little league baseball, building model rockets, and anything electronic. He learned to play the piano, playing the song "Let Me Call You Sweetheart" for Grandpa Fred and Grandma B to dance to at their 50th wedding anniversary when he was 8.
After graduating from Syracuse High School as Valedictorian in 1993, Brian attended Wichita State University, earning both a bachelor's and master's degree (summa cum laude). On a visit home in March of his sophomore year of college, Brian accepted Christ as his Savior, and was baptized in the river by his dad. Cold temps, and low water flow necessitated digging out a space to be immersed, but what a memory. He lived his faith throughout the rest of his life.
Beginning in 2001, Brian spent his career as an Air Force civilian working for the medical group in Health Promotion. During his career he spent time at McConnell AFB, Ellsworth AFB, Shaw AFB, Whiteman AFB, and Ramstein Air Base. Just three months before he passed, Brian was proud to be recognized for 20 outstanding years of service to the federal government.
Brian and his family have lived in Germany over 11 years and have enjoyed traveling throughout Europe. Having grown up in his parents' auto repair shop, Brian took much pride in knowing how to fix his vehicles and helping friends and family with their cars. Brian loved to cook and took every opportunity to prepare meals for friends and family. Brian thrived on service to others, most notably to his wife and daughter. A lifelong Christian, Brian's faith guided his service to others and devotion to his family.
Brian is survived by his wife of twenty-one years, April; their daughter, Amelia, age 13, both of the home; his parents, Robert and Arlene Kirby of Syracuse, Kansas; younger brother, Alan Kirby and wife Sandra of Pittsburg, Kansas; several aunts, uncles, in-laws, nieces, nephews, cousins, and friends.
In her father's honor, Amelia wanted to share one of his favorite recipes with friends and family.
Blueberry Muffins
2 c. flour, ½ c. sugar, 3 t. baking powder, ½ t salt, 1 egg, 2/3 c. milk, 1/3 c. oil, ¾ c .fresh blueberries
Combine wet and dry ingredients separately, then fold dry ingredients into the wet 32 times while adding blueberries. Bake 20-25 minutes at 400 degrees.
A local memorial in Germany will be held December 14 at 3:00 PM at Northside Chapel on Ramstein Air Base.
Stateside funeral service will be held Saturday, December 18, 2021, at 10:00 AM (MST) at the Syracuse High School Auditorium in Syracuse, Kansas. The service will be live streamed on Garnand Funeral Home Facebook Page. Visitation will be Friday, December 17, 2021, from 3:00 PM (CST) until 8:00 PM (CST) at Garnand Funeral Home in Johnson. Cremation will follow the funeral service. In lieu of flowers, memorial contributions may be made to samaritanspurse.org in support of Operation Christmas Child in care of Garnand Funeral Home, PO Box 715, Johnson, KS 67855. Condolences may be posted at www.garnandfuneralhomes.com.