Christie "J.R." Raymond Bamberger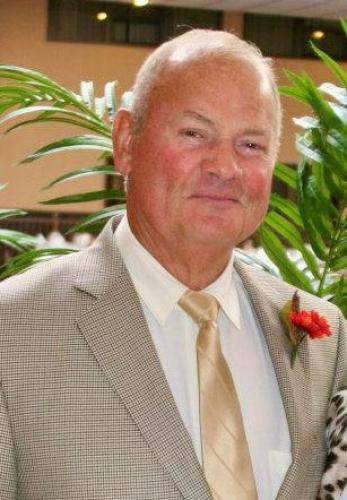 It was in Larned, KS, on December 19, 1945, Christie Raymond Bamberger, Jr. joined Chris and Thelma (Henderson) Bamberger, and their other three children, Linda, Shirley and Denny. From the hospital, he was spirited away to the family's farm northeast of Jetmore. On Friday, February 26, 2021, he was once again spirited away but this time to his beautiful and glorious Eternal home.
Junior grew up on the family farm nine miles north of Jetmore amid a flurry of fun-loving Bamberger cousins, aunts and uncles and neighborhood friends. His mom thought he was a little accident prone as a youngster…however, he often laughed… and admitted many times he had manufactured "accidents" because it was a sure-fire way to get a new toy out of his parents!
In 1959, a little brother, Mike, completed Chris and Thelma's family. Junior attended the Dry Creek country school until 6th grade when he enrolled in the old, redbrick Jetmore Grade School.
During his high school years, Bambi, as he was called, was an active member and officer in FFA. He enjoyed singing in school choirs. And while he went out for basketball and track his freshmen and sophomore years, his true love was football! He lettered in football and was a member of the "J" club his Sophomore year. A fearsome force on the gridiron, he perpetuated the connection between the Bamberger name and dedicated football players.
After graduation he attended Dodge City Community College, then went on to spend a year at Fort Hays State University. He married Denise Ann Litzenberger in 1967. This was in the midst of the Viet Nam War, so in the fall of that year, he signed on with the National Guard survey unit in Dodge City.
His married life was spent on the farm northeast of Jetmore where he worked in tandem with his dad and brothers, Denny, and Mike. Their children, Mendy and Kirk, were raised on that farm. Both were involved in school sports so most Friday nites found their parents attending volleyball, basketball and football games.
Mendy's and Kirk's involvement in 4-H included both hog and steer projects. Junior could be found most every summer, driving the tractor as he helped both kids drag their stubborn county fair steers thru the front yard, which was usually the first step in readying them for the county fair show ring. He enjoyed those years immensely. During the Fair you could find him leaning on the showring fence, smiling with pride, as Mendy and Kirk moved around the ring with their animals.
At one point, in the early '80's, he and Denise Ann owned and operated the Jetmore Flower and Gift Shop. His all-time favorite holiday was Valentine's Day. Many times during the day, he would load the finished orders into the van, and holler "I'm heading out!!" He absolutely loved delivering flower arrangements, bouquets and gifts to the folks in Jetmore and Hanston. He said it made him feel good to see the happiness the flowers brought to people.
Junior took great pride in his role as a farmer and steward of this land. He was active and sat on the board of the Hodgeman County Soil Conservation Service, and won their Bankers Award for Conservation in 1979. He also sold Conklin products and, for a while, repaired roofs with those products.
He was a member of the Jetmore United Methodist Church. When the members remodeled the sanctuary in 1984, Junior spent many long hours helping with the construction within the church and its dome as well as refinishing and staining all the pews.
In the mid 1990's, he and Denise Ann divorced, and Junior's life's work moved from the farm to being a dairy service technician. This involved helping establish the large dairies that were going up in Western Kansas. While he was an experienced welder, his real expertise was plumbing. His experiences as a farmer equipped him to tackle most any problem, find a solution, and then put matters right.
By now he was known to friends as J.R. … and it was during this time he met Dorothy Lockett. She became his beloved companion and greatest supporter. Her family, which became his family, included five daughters, Kelly Rae, Kenna, Karey, Kimme, Kristi…their husbands and families.
J.R. loved all the Lockett clan's activities…this included their annual camping treks to Cutty's Resort in Colorado. Fun times were had by all, although it was said that J.R. had developed a love/hate relationship with that Cutty campground if truth be told.
"Tanking" down the Arkansas River in cattle tanks, attending Bamberger get togethers at Copper Mountain, and taking trips to South Dakota and Pagosa Springs to visit family were always memorable times for Dorothy and J.R.
The farm still had a big place in J.R's life and heart. He enjoyed spending time back in Jetmore mending fence and checking on the cattle he had in partnership with his brother Mike. When in Kansas City, riding around with Kirk to check on painting jobs was a favorite ritual.
And then there were the activities of all those grandchildren! He followed their school and sporting events, and attending as many as he and Dorothy could squeeze in. When the Tahoe was headed east to Kansas City, they took in Brylee's soccer games and did their best to keep up with Bailey! When the Tahoe was headed south, they attended Braden and Brooklyn's softball, basketball and football games in Oklahoma. One of J.R.'s proudest moments was being on the sideline last December to watch grandson Braden help Tyrone win their first State Football Championship in 60 years! Football wise, he was a diehard Kansas City Chiefs fan, even though Dorothy was in the chair beside him cheering her heart out for the Denver Broncos!
J.R.'s story could not be told without mentioning his love and respect for our great country and its values. He held his brother Denny's military service in the highest regard. Before his health failed him, he volunteered to help local veterans make 450 wooden crosses to be placed on veteran's graves. Always extending a helping hand was just second nature for J.R.
J.R. was a wonderful companion, father, grandfather and friend. He added humor, stability, and love to all our lives. He was preceded in death by his parents, brother-in-laws Byron Ulery, Laverne Housman and a granddaughter, Sarah Huser.
Those left to celebrate his life are his companion, Dorothy, Coolidge, KS; Mendy (Brad) Stevens, Braden and Brooklyn, Tyrone, OK; Kirk (Brandy) Bamberger, Brylee and Bailey, Prairie Village, KS; Kelly Rae (Bruce) Howard, Ulysses, KS; Kenna (Doug) Bloyd; Karey (Treg) Hatcher, Kimme (Todd) Huser, Syracuse, KS; Kristi (Kevin) Fearno of Lakin, KS. Brothers, Dennis (Betty)Bamberger, Mike (Vanessa) Bamberger, Jetmore, KS; Sisters, Linda Housman, Jetmore, KS and Shirley Ulery, Yakima, WA; Lifelong friend, Denise Ann Bamberger, Dodge City, KS. Twelve grandchildren and twelve great-grandchildren and a host of relatives and friends who find the world a little less colorful since his passing.
Memorial graveside service will be 2 p.m. Saturday, March 6, 2021 at Fairmount Cemetery, Jetmore, with Harmon Bliss presiding. Service will be viewable via Facebook live at www.facebook.com/beckwithmortuary. Visitation will be from 9 a.m. to 8 p.m. Friday, March 5, 2021 at Beckwith Funeral Home, Jetmore.
Memorials may be given to 4-H Building Fund in care of Beckwith Funeral Home, Box 663 Jetmore, KS 67854.
To plant Memorial Trees in memory of Christie Raymond Bamberger Jr., please click here to visit our Sympathy Store.