Dalene Fecht Lewis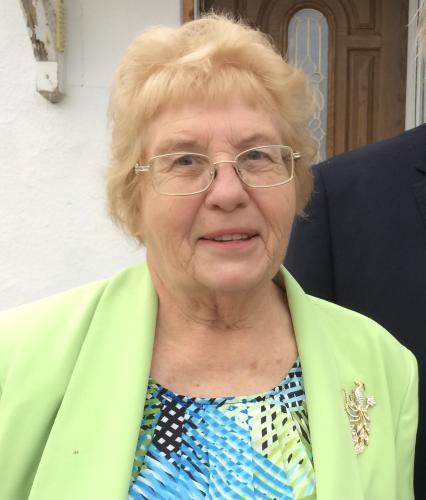 Dalene May (Fecht) Lewis passed away on Tuesday, July 5, 2022 at the age of 71 at the Hamilton County Hospital in Syracuse, Kansas. She was born on December 15, 1950 in Garden City, Kansas the daughter of Albert Dale Fecht and Pauline (Finkenbinder) Fecht.
Dalene was raised in Syracuse and attended Syracuse High School and graduated in 1968. She continued her education in Colby Junior College then went on to Northwestern Oklahoma State University in Alva Oklahoma and graduate in 1972 with a BS in Library Science. She taught for one year in Granada, Colorado and two years in Kendall, Kansas.
On July 21, 1973, she married Daryle Wayne Lewis in Syracuse. For a honey moon they drove to Alaska in a 1956 Ford and later toured the rest of the 49 states in the 56 Ford. To this union five daughters were born, Annette, Babette, Patti, Cozette, and Katie.
She was a member of the First Christian Church, involved with 4-H as a leader, past Board Member of Farm Bureau, vacation bible school, loved puppets. She enjoyed horses, dogs and cats, and chickens, but her greatest enjoyment was spending time with her family and friends.
She was preceded in death by her Father, Albert Dale Fecht, Her Brother, Dale Fecht
She is survived by her husband, Daryle Wayne Lewis of Syracuse, KS, her mother, Pauline Fecht of Syracuse, KS, Five Daughters: Annette (& husband Goutham) Vemuri of Maple Grove, MN, Babette (& husband Rick) Dixon of Topeka, KS, Patti (& husband Scott) Selikoff of Bridgewater, NJ, Cozette Lewis of Garden City, KS, Katie (& husband John) Dunn of New York, Two Brothers: - Garrlet (& wife Chris) Fecht of Syracuse, KS, Darrell (& wife Cindy) Fecht, six Grandchildren: - Anna & Meghan Vemuri, Olivia, Sophia, & Elysia Selikoff, Mary Grace Dunn.
Funeral Services were held on Thursday, July 7, 2022 at 10:00 AM (MDT) at the First Christian Church in, Syracuse, KS. Burial followed in the Syracuse Cemetery, Syracuse, Kansas.
Visitation was held on Wednesday, July 6, 2022 from 4:00 PM to 7:00 PM (MDT) at the Fellers Funeral Home LLC.
In Lieu of Flowers memorial contributions may be payable to Dalene Lewis Memorial Fund, and sent in care of Fellers Funeral Home & Monuments LLC, P.O. Box 1253, Syracuse, KS 67878. 620-384-5100.