Donald Joseph Gerard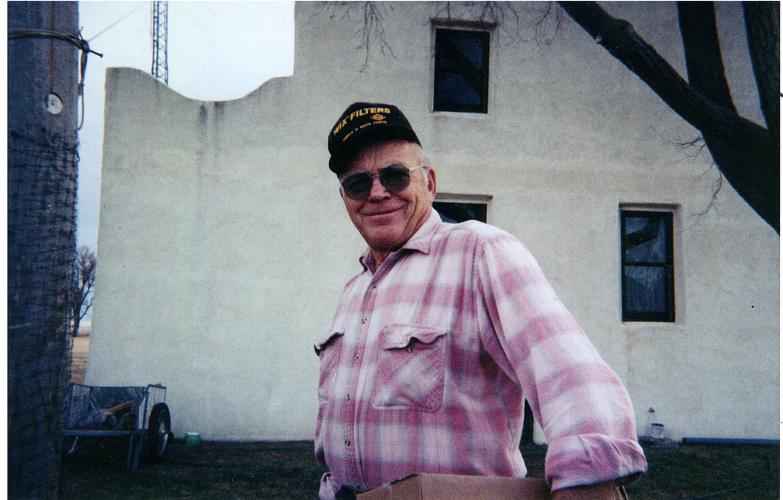 Donald Joseph Gerard passed away on Tuesday, March 1, 2022 at the age of 94 at the Greeley County Hospital in Tribune, Kansas. He was born on February 16, 1928 in Arlington, Kansas the son of Louis Julien Joseph Gerard and Lois Emma (Smith) Gerard.

Donald began his life in Arlington and at the age of 8, he moved with his family to western Kansas. He attended Coolidge High School and graduated in 1946. On June 10, 1948, he married the love of his life Barbara Mary Grilliot in Syracuse. They made their home on a farm in northwest Hamilton County. To this union 10 children were born, Joe, Ed, Leo, Roy, Donna, Luke, Matt, Lisa, Steve, and Clem. Donald was a farmer his entire life and provided for his family and did whatever was needed at any time. He enjoyed the farm life and resided on the farm until his passing.

Donald was a member of many organizations including, St. Raphael Catholic Church, Knights Of Columbus since 1988, C4 School Board member, Coolidge School Board member, Hamilton County Fair Board, Hamilton County Airport Board, Hamilton County Historical Society, Kansas Association Of Wheat Growers, board member of Kansas Public Radio station KANZ, National Farmers Organization, American Radio Relay League, and the Experimental Aircraft Association. He enjoyed amateur radio, model airplanes, woodworking, he was a Brewmeister, and a pilot for over 50 years. He accepted Jesus Christ as his Lord and Savior on January 25, 2022. His greatest enjoyment was spending time with his family, grandchildren, and friends.

He was preceded in death by his father, Louis Julien Joseph Gerard, his mother, Lois Emma (Smith) Gerard, his wife, Barbara Mary (Grilliot) Gerard. his daughter, Donna Marie Gerard, three sisters - Frances Smith - Westeman – Wright, Betty Reiger and Margie Smith, and his grandson, Elisha Samuel Gerard.

He is survived by one sister - Rosamond Youngers, Ephrata, WA, eight sons- Joe (& wife Rexan) Gerard of Mesa, AZ, Ed Gerard of Syracuse, KS, Leo (& wife Mindy) Gerard of Thornton, CO, Roy (& wife Debbie) Gerard of Hutchinson, KS, Luke Gerard of Manter, KS, Matt (& wife Lori) Gerard of Dodge City, KS, Steve (& wife Cheryl) Gerard of Syracuse, KS, Clem (& wife Kim) Gerard of Dodge City, KS, one Daughter - Lisa Brown of Syracuse, KS, 22 Grandchildren, 28 Great Grandchildren. And numerous family members and friends.

Rosary & Mass Services will be held on Monday, March 14, 2022 at 10:00 AM (MDT) at the St. Raphael Catholic Church in, Syracuse, KS. Inurnment to follow at the Syracuse Cemetery, Syracuse. In Lieu of Flowers memorial contributions may be payable to the St. Raphael Catholic Church, or Greeley County Hospital, or Hamilton County EMS, and sent in care of Fellers Funeral Home & Monuments LLC, P.O. Box 1253, Syracuse, KS 67878. 620-384-5100.