Dr. Leo Russell Finkenbinder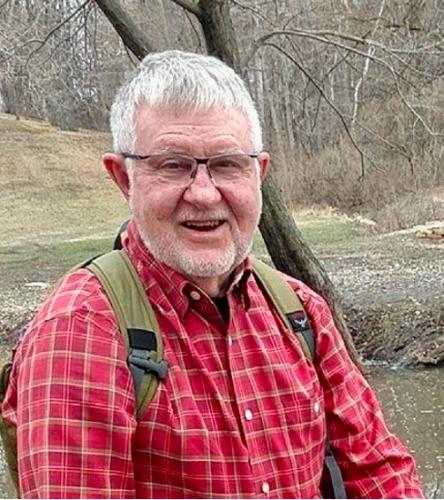 Dr. Leo Russell Finkenbinder, beloved husband, father, grandfather, great-grandfather, brother, uncle, university professor, and biologist passed away on August 8, 2023. His memorial service will be held on Monday, August 28, 2023, at 10:00am. Bethany First Church of the Nazarene / Main Sanctuary. You may also watch the service via live stream at: bethanynaz.org/live or https://bethanynaz.online.church/
Leo was well known for his love of this world we live in. He believed we were all created to be stewards of our Earth and that all the wonders the Earth had to reveal were a gift from God. Leo always shared his sense of awe and wonder with his family, friends, students, and strangers and that led to a meaningful and extraordinary life.
Leo was born November 1, 1940, to Albert Leo and Lola Violet (Baldwin) Finkenbinder in Syracuse, Kansas. Leo was raised on the family farm and ranch where he developed his love of God's creation. He is a graduate of Syracuse High School, Northwestern Oklahoma State University (BS), Oklahoma State University (MS), and the University of Oklahoma (PhD). He taught at Keyes High School 1963-67, Southern Nazarene University 1968-2003, and Olivet Nazarene University 2007-2017.
In 1981, SNU biology majors took a field trip to Costa Rica. Little did they know this trip would set in motion what was to become his lifetime passion for Costa Rica and the Resplendent Quetzal where he became the founding director of the Quetzal Education Research Center in San Gerardo de Dota, Costa Rica. Together with his wife Zana, they managed thousands of students, visitors, and research scientists at the QERC as well as overseeing construction of the QERC buildings. They continued to coordinate trips to Costa Rica well into retirement.
He was preceded in death by his beloved parents Albert and Lola, and cherished sister Wanda May Stallings, in-laws Olin "Buck" and Zelma Lynam, brothers-in-law Kip Lynam and Dale Lynam, and sister-in-law Carol (Rich) Lynam.
Leo is survived by his wife of 63 years, Zana Kay, who was his highschool sweetheart. His three children and their families including daughter - Zonda Martin and husband Scott, daughter - Lana Lambkin, and his son - Timothy and wife Laurie. He is also survived by seven grandchildren and ten great-grandchildren. Natasha (David) Edwards, Cody (Diana) Lambkin, Rachel (Rob) Gering, Emily (Jordan) Stanfill, Toby (Emily) Lambkin, Zach (Logan) Martin,and Zane Finkenbinder. The great-grandchildren include: Hunter, Emelia, Sophie, Rex, Elliott, Max, Graham, Zoey, Eilee, and Teddy. He is also survived by his three brothers and their wives: Darl (Lynn), Art (Irene), and Bill (Amy), brother-in-law Richard Lynam, sister-in-law Ellen (Loyd) Richardson. Leo was so happy to have one last reunion with his brothers just a couple of weeks before his death. He loved them so much. Leo leaves behind a host of nieces, and nephews who thought Uncle Leo was the best. He also has a huge extended family of cousins, friends, and relatives who will miss him. In lieu of flowers, please consider a donation to Southern Nazarene University/Leo Finkenbinder Science Scholarship or to Olivet Nazarene University Catalyst Organization/Leo Finkenbinder Scholarship.
The links are:
Southern Nazarene University
https://www.snu.edu/give/
Gift designation: Other - other designation - Leo Finkenbinder Science Scholarship
Olivet Nazarene University
https://giving.olivet.edu/donate designation: Catalyst ONU, Comments: Leo Finkenbinder Scholarship