Eva Wauneta Holdren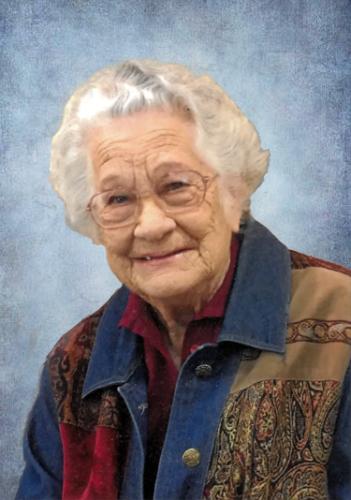 Eva Wauneta Holdren, 98, of Faulkton, passed away Wednesday, May 17, 2023, at the Faulkton Senior Living.
Funeral services will be 10:30 a.m., Monday, May 22, 2023, at the United Church of Faulkton with Pastor Shawn Stoll presiding. Burial will follow in the Faulkton Cemetery. A visitation will be 4:00 p.m., Sunday, May 21, 2023, at the church.
Eva Wauneta Holdren was born November 10, 1924, in Manter, KS, the eighth child of nine of William and Eva Lorena (Rena) Harmon. As a small child the family moved to a farm/ranch twomiles south of Holly, CO. Wauneta was in her element if she could be outside doing whatever her brothers were doing or riding her white horse, Cricket, bareback across the prairie. Her main job was following the cattle as they free ranged through Kansas and Colorado.
This is when she met her future husband, Jack Holdren, when she was eight. His family lived four miles north of her family. Her growing up years were spent herding cattle on horseback, helping her father in the fields, and playing music with her father at local dances. She also started to write her own songs. Jack and Wauneta were known as the best dancers at any dance they attended.
They were married September 4, 1940, on her Uncle Willy's farm. While they were living on a farm 30 miles south of Syracuse, KS, six children were born: Bill, Cecil, Marilyn, Eva Jo, Jay Dee, and Roy. Wauneta spent many hours helping Jack with fieldwork. The Holdren's had the most flowers of anyone in the whole community and was the gathering place for all neighboring kids. Evenings were spent listening to Wauneta play her guitar and sing songs she had written.
In November of 1962, the family moved to a farm north of Wecota. Again, Wauneta spent time in the fields, landscaping her yard, and helping the kids with their registered 4-H sheep.
In 1964 Jack went to work for Dr. Boyd Mills and the family moved to Faulkton. Even living on main street, the Holdren house was the gathering place for all the kids. At this time Jay Dee and Roy along with some other friends, started a band called "The Innerlight". After winning the State Snow Queen talent competition, the band was asked to play at school dances. As no one was old enough to drive, Wauneta became their driver.
The family then moved into a mobile home on 11th St. S. Again, Wauneta had a yard she could landscape. The Holdren house was a fun place for all the kids.
September of 1968, son-in-law Ron Melius used his tractor to move the family mobile home across town to a former horse pasture belonging to Delos Melius. That fall, Wauneta planted her first row of evergreens. Many hours of working the ground, hauling tons of rock, and building the rock terraces on her time off. There were nine terraces, the longest 168 feet long and a terrace made of old tires over eight feet high. Wauneta's garden became a private paradise. An evergreen was planted for each of her children, except Cecil, he wanted a rock. Each time a grandchild was born another tree was planted, 20 in all. When the great-grandchildren started coming, she planted a lily in honor of them.
Word got out and people started coming to see the garden that Wauneta built. The garden was featured in newspapers, magazines, and a segment on South Dakota Public Television. Many local people and tour buses from several states came to see the beauty. Visitors came from every state in the US and 23 foreign countries.
Winters were spent planning next year's garden, giving guitar lessons to 60 students, and making quilts. A quilt was given to each grandchild when they were born, one when they were in middle school, and one when they were married. Every quilt was full sized or larger and completely hand quilted. Wauneta has made over 300 quilts, and all but a few were given away to family and friends.
After Jack became ill and could no longer live at home, Wauneta moved into the Meadows in May of 2013. At that time, sons Jay Dee and Roy took many journals and stories Wauneta had written, to start putting together a book. Roy took songs she had written and is now putting together a CD of her music.
Even at the Meadows, Wauneta had to landscape, planting lilies to the east of the building and peonies under her apartment window. She enjoyed her time there doing what she never had time for before, watching TV, reading, and taking road trips with daughter Eva.
Eva is survived by her children: Cecil Holdren of Faulkton, Eva Jo Melius-Meyer of Faulkton, Jay Dee (Susan) Holdren of Holly, CO, Roy (Mary) Holdren of Bloomington, MN; 20 grandchildren and numerous great grandchildren and great-great grandchildren.
She is preceded in death by her parents William and Eva Harmon, her husband of 73 years Jack Holdren, son: Bill Holdren, infant daughter: Marilyn Jean, daughters-in-law: Shelbie Holdren and Glenda Sangster; son-in-law: Ron Melius; six brothers, two sisters, and numerous nieces and nephews.
The family wishes to thank Faulkton Senior Living for their care and devotion to Wauneta in her last days.
Luce Funeral Home of Faulkton has been entrusted with Eva's arrangements. (www.familyfuneralhome.net)