Evelyn Youngers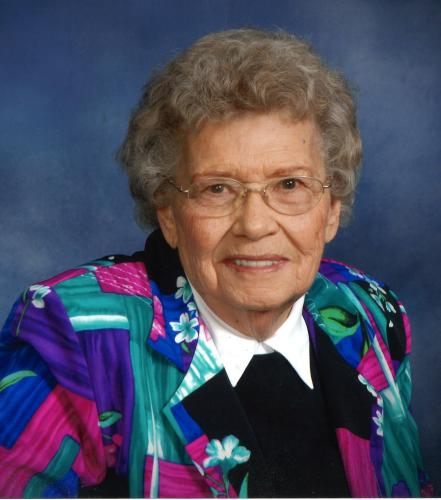 Garfield - Evelyn T. Youngers, 93, passed away Saturday, November 4, 2023 at home. She was born June 9, 1930 in Ost, Kansas, the daughter of Frank and Helen (Schauf) Marx. She was a supportive farmer's wife and a loving mother of twelve children.
On May 18, 1949 she married George E. Youngers in Ost, Kansas, he passed away December 15, 2014.
She is survived by; five sons, Ed, Garfield, Ks, Melvin (Linda) Moses Lake, WA, Loren (Carolyn), La Veta, CO, Alan (Cindy), Overland Park, KS, and Dennis (Danyelle), Mount Juliet, TN; six daughters, Carol (Bruce) Ross, Torrington, WY, Janet (Gary) Scheuerman, Garden City, KS, Lora Youngers, Cedar Rapids, IA, Lisa (Lance) Egan, Derby, KS, Myrna (Jim) Hamm, Tampa, KS, Denise (Steve) Warren, Wright, KS; thirty-six grandchildren, fifty-nine great-grandchildren and one great-great grandchild.
She was preceded in death by her parents; husband, George; two sisters, Bernetta Keiter and Genevieve Marx; two brothers, Harold Marx and Joesph Marx, a daughter, Doreen Amon, a daughter-in-law, Jane Youngers, a granddaughter, Anne Marie Youngers, and three great-grandsons, Mason, Phinley and Derek.
Visitation will be 9:00 a.m. to 7:00 p.m. Monday, November 13th, 2023 at Beckwith Mortuary, Larned with a rosary at 7:00 p.m.
Visitation and viewing will be 10:00 a.m. to 10:30 a.m., with a rosary at 10:30 a.m. followed by an 11:00 a.m. Funeral Mass, Tuesday, November 14th, 2023 at St. Joseph Catholic Parish Church, 132 S Millwood Ave, Wichita, KS, with Father Matthew Siegam presiding. Burial will be 2:30 p.m. Tuesday, November 14, 2023, at St. Peters Catholic Cemetery, Willowdale, KS, with Father Roger Lumbre presiding.
Memorial may be given to the St. Gertrude the Great Catholic Church in care of Beckwith Mortuary P.O. Box 477, Larned, KS 67550. Personal condolences may be left at www.beckwithmorturary.com