I.B. Sonny Rundell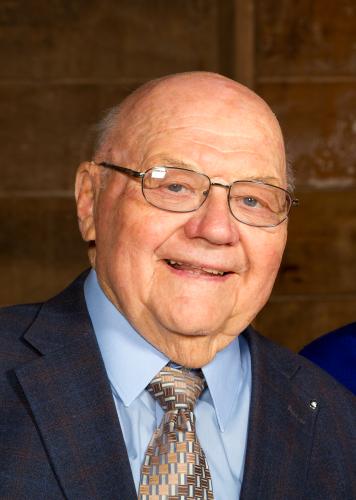 I.B. Sonny Rundell passed away on Friday, March 11, 2022 at the age of 89 in Syracuse, Kansas. He was born on October 5, 1932 near Pierceville, Kansas the son of Ira Boyd Rundell Jr. and Helen Kathleen (Buhrle) Rundell.
Sonny began his life in Pierceville and attended kindergarten and first grade where Miss Alta Brown was his first grade teacher. In 1939, he moved with his family to Wichita until 1944, then moved to Bavaria, Kansas which is near Salina and attended grade school and high school and graduated in 1950. Sonny went on to further his education attending Wesleyan University for one year. He transferred to K-State for two years. In 1953, he joined the United States Army and served in Korea until 1956. When he returned from his military service he attended K-State earning a B.S. Degree in Agriculture graduating in 1957. On June 29, 1957, he married Verna Marilyn Miller at the Plymell Church south of Garden City. To this union four children were born, Brent, Barbara, Beth, and Ira Boyd IV. He was a businessman and retired farmer. During his time farming he farmed irrigated and dryland farms in Hamilton, Stanton, and Finney counties from 1957 until his retirement in 1988.
Sonny was a member of the Syracuse Southern Baptist Church, Gideons International, Southwest Kansas Area Agency on Aging, Silver Haired Legislature, Interstate Migrant Education Council, Consortium Arrangement for Identification and Recruitment of Migrant Workers, Smoky Hills Public Television Board, Kansas State Board of Education, Syracuse Board of Education, High Plains Special Education Cooperative, Garden City Community College Board of Trustees - Founding Member, Education Equity Advisory Council – Founding Member, Education Commission of the States, Kansas Commission on Teaching Americas Future, National Association of State Boards of Education, Study Committee, Kansas Public broadcasting Commission, Farmers Home Administration County Committee.
Sonny received many honors of recognition in his life time including, 2003 Governor's Award for Distinguished Service to Secondary Education in Kansas, Kansas State High School Activities Association, 2002 Friends of Education ABC Award, Confidence in Kansas Public Education Task Force, 2002 I Make a Difference Award, O'Laughlin School, Hays, Kansas, 2002 Certificate of Recognition of Korean Service, Presented by KS Rep. Jerry Moran, 2002 Kansas Citizens For Science – Friend of Science Education, 2001 Friends of Education Award, Kansas National Education Association, 1999 Presenter, Summer QPA Academy, Fort Hays Educational Development Center Multiple awards as 4-H booster. Sonny enjoyed traveling, taking part in the government of our schools and country, working in his shop, but his greatest enjoyment was spending time with family and friends.
He was preceded in death by his father, Ira Boyd Rundell Jr., his mother, Helen Kathleen (Buhrle) Rundell, his brother, Clinton Kenneth Rundell and his sister, Marilyn Peterson.
He is survived by his spouse Verna Marilyn (Miller) Rundell of Syracuse, KS. Two Sons: Brent (& wife Charlotte) Rundell of Morganville, KS and Ira (& wife Peg) Rundell IV of Vernon Hills, IL. Two Daughters: Barbara (& husband Ed) Westeman of Syracuse, KS and Beth (& husband Arlie) Aeschliman of Tribune, KS; Four sisters Marjorie (& husband Don) Lear of Garden City, KS, Mary Katherine Larson of Salina, KS, Carolyn Cassidy of Colorado Springs, CO, Margaret Ray of Colorado Springs, CO, Six Grandchildren, Fifteen Great Grandchildren. And numerous family members and friends.
Funeral Services will be held on Wednesday, March 16, 2022 at 10:00 AM (MDT) at the Southern Baptist Church in, Syracuse, KS. Burial will be held at 2:30 PM (MDT) at the Sunset Memorial Gardens Cemetery, in Garden City, Kansas.
Visitation will be held on Tuesday, March 15, 2022 from 1:00 PM to 7:00 PM (MDT) at the Fellers Funeral Home LLC.
In Lieu of Flowers memorial contributions may be payable to the Gideons, or Southern Baptist Church, and sent in care of Fellers Funeral Home & Monuments LLC, P.O. Box 1253, Syracuse, KS 67878. 620-384-5100.