Jerald Allen Bushman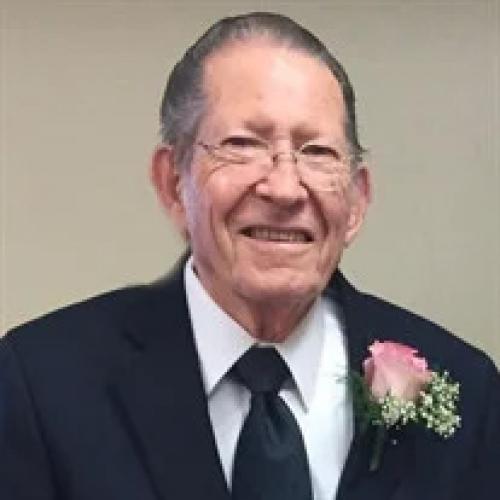 Jerald Allen Bushman was born in Blackwell, Oklahoma, on March 27, 1931, to Herschel and Pearl (Pittman) Bushman. Jerald passed from this earthly life to his heavenly home on April 8, 2021, at his home in Enid, Oklahoma, at the age of 90 years and 12 days.
A memorial service will be held at Enid Maine Church of the Nazarene on Tuesday, April 13, at 1:30 p.m. with burial following at 4:00 p.m. at the Alva Municipal Cemetery. Visitation with family will be at Anderson-Burris Funeral Home Monday, April 12, from 5:30 p.m. to 7:00 p.m.
Jerald grew up on the family farm near Blackwell, OK. He graduated valedictorian of his class in 1950 at Colorado Springs Bible College Academy. He transferred to Bethany Nazarene College (now Southern Nazarene University) in 1952 and graduated with a Bachelor of Arts degree in religion. He later received his Master of Education degree from Fort Hayes State University.
On June 7, 1951, he married Joan Nelson at Pleasant View Church near Hopeton, Oklahoma. They were blessed with the birth of four children. They were married 63 years before her death in 2015. Jerald's ministry started through music in a gospel quartet. His service as pastor began at a home mission church in Hot Springs, Arkansas, where he was ordained. He pastored churches in Oklahoma, Kansas, Arkansas, and Arizona. He served in what is now the Wesleyan Church until 1985, when he took a sabbatical due to heart problems. He also taught school and served seven years in Kansas and two years in Arizona as assistant district superintendent and chairman of the Board of Ministerial Standing. After serving 20 years in Sedona, AZ, and 45 cumulative years as pastor, he retired, with his wife Joan, to Woodward in February 2000 to be closer to family. He served as volunteer visitation pastor of Woodward's First Nazarene Church. He also was involved as local leader in planning for and promoting Greater Northwest Oklahoma Evangelistic Crusade, which involved participation by more than 50 churches and other Christian organizations of various denominations. They finally settled in Enid in August, 2004. They became members of the Maine Church of the Nazarene where he pastored for 6 years and had a successful prison ministry as long as his health allowed. Jerald was a lifetime minister. He never stopped sharing the Good News with anyone who would listen. He had a heart of compassion for all who were in need. Jerald also enjoyed fishing, hiking, sports, and visiting with family in his spare time. On January 1, 2016, Jerald married Muriel Black and greatly enjoyed their companionship.
In addition to his parents and wife, Joan, he was preceded in death by his only brother, Herschel Lee Bushman; a nephew, Bruce Bushman; and a great-grandson, James Bushman.
Jerald is survived by his wife, Muriel; three sons, Dwight (Roxine) Bushman of Wakita; Dennis (Sheri) Bushman of Alva; Doug (Dr. Laurie) Bushman of Enid; one daughter, Donna (Mark) Davis of Syracuse, Kansas; two step-daughters, Jocille (Sheldon) Tucker of Crescent; Dr. Donalyn (Dr. Joe) Alexander of Abilene, TX; one step-son, Ronnie Black of Enid.
Also surviving are nine grandchildren; Shayna (Isaac) Hawkes, Brandon (Amelia) Bushman, Jaime (Craig) Ricke, Dr. Jared (Rachel) Bushman, Dr. Jonathan (Andrea) Bushman, Nickolaus (Joanne) Bushman, Ashleigh (Matthew) Walter, Jeff (Mary) Davis, Randy (Brittany) Davis; five step-grandchildren; P.D. (Lacie) Emery, Cameron (Savannah) Emery, Austin (Kelsey) Alexander, Joe Black, Madeline Black; 17 great-grandchildren; Lydia, Landon, Maesyn, Maverick, and Eden Bushman; Tatum and Trendon Ricke; Adelaide Bushman; Avery, Aidan, and Andrew Bushman; Corinne Bushman; Andrew and Jordan Walter; Clara Davis; Rafe and Reese Davis; 8 step great-grandchildren; Kinsey and Addison Emery; Hadley and Emersyn Emery; Hank, Parker, MillieKate, and BrantleyJo Alexander. Also surviving are his nephew, Terry Bushman; sister-in-law, Wanona Newlin; and numerous relatives and friends. Jerald touched countless lives and will be greatly missed.
Memorials may be made through Anderson-Burris to Enid Maine Church of the Nazarene or Hope Outreach Ministries.

To send flowers or a memorial gift to the family of Jerald Allen Bushman please visit our Sympathy Store.