Jerry DeWitt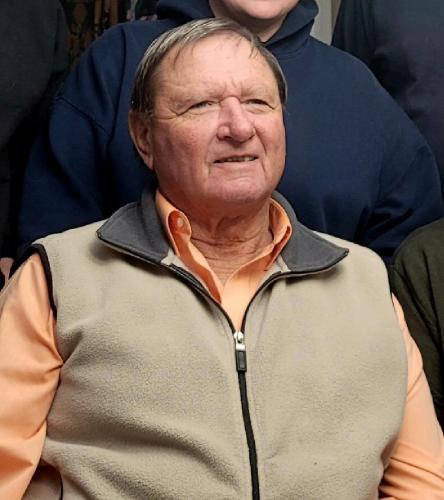 Jerry Gordon DeWitt was born on 2-28-47 at Dr. Mary's Clinic, the eldest of six children born to Dick and Ila Greving DeWitt. They made their home on the "east place", later moving to the Greving farm. He was a Prairie View Pirate. PV Schools didn't have buses so he was a designated driver for siblings and neighbors. He graduated with the PVHS Class of 1965.
Beginning in high school he farmed and worked for DeWitt & Pakkebier Construction, helping to build many houses in the county. He married Gloria Brands on Friday the 13th of August, 1971. They were the proud parents of Darrin Jon, Jared Lee, and Kassandra Beth. Together they raised their kids, built a windbreak, farmed, and remodeled the DeYoung house on the Norton/Phillips county line. They moved to Prairie View in '95 and became "city folks".
Jerry had many jobs, including laying carpet for Olliff-Boeve and welding at New Age Industries before making the jump to conductor/engineer for Kyle Railroad. He loved his time on the rails, especially when it involved the snow plow. He worked there over 27 years. He continued "railroading" by running the barrel train every year at the fair.
But did he really retire? He got his dose of farming by heading south to "help" his son and family. Gloria reminded him each time that he wasn't the boss down there! Running combine, battling prairie dogs, mowing, and fixing fence until the rattlesnakes came out! Every year was also his "last year" to do the silage cutting run with the Rogers family. The last year finally came when Jack sold his cutters. Jerry's specialty was putting up shelving, whether you wanted shelving or not! His newest hobby was running his sister's tree saw. He enjoyed coffee times, family trapshoots, bonfires, going to auctions, ice cream, driving, and making improvements at his new "old" farm.
Jerry had a servant's heart when it came to his church and community. He was a lifelong member of the Luctor Christian Reformed Church where he served on the Consistory, was a strong tenor in the choir, and a big supporter of Gloria's work with Operation Christmas Child. He was currently serving on the Sunshine City library board and the Phillips County fair board. He had recently joined the Sons of the American Legion. The high point of his week was Thursday sale day at the Norton sale barn, followed by a Friday recovery day! He got to help with fireworks, Party in the Prairie, and other community events because he was married to the city clerk! He was very proud of his kids' and grandkids' work ethics, which they learned by his example. He kept tabs on things via his very own version of "Neighborhood Watch". Grandkids' memories include the raised eyebrow, 20 pair of reading glasses!, and remembering that if Grandpa was around he was always the one in charge! Good memories included family trips to Orlando, Nashville, Branson, and their 50th anniversary trip to South Dakota.
Survivors include his wife of 51 years--Gloria; children Darrin & Trudi DeWitt of Syracuse, KS; Jared & Melody DeWitt of Prairie View; Kassandra DeWitt of Phillipsburg; grandchildren Darian & Nate of Liberal; Tierney of Syracuse; Kirsten & Colin of Jacksonville, NC; Ian, Dylan and Stanley of Prairie View; Dalton of Syracuse; Faith of Norton; Dylan of St. Francis and Heather of Tucson, Arizona; great-grandchildren Braylee, Brecklynn, AJ, Layla, and Nayeli. Sisters are Doris and Kenny Van Kooten of Holland, MI; Karen Huiting of PV; Brothers Dennis & Cathy and Roger & Roxie of Prairie View; Brian & Michelle of Hays; brothers and sisters-in-laws Betty Hensinger of Lexington, KY; Steven & Bev Brands of Ottawa, KS; Vanessa & Max Wilson of Las Animas, CO; Glenn & Kristen of Almena; nieces, nephews, cousins, friends, extended family and Bert. He was preceded in death by his parents Dick & Ila DeWitt; parents-in-law Stanley & Dorothy Brands, his brother-in-law Jerald Huiting, and great-nephew Derek VanderVelde
Jerry will lie in-state from 12 p.m. to 9 p.m. on Wednesday and 9 a.m. to 9 p.m. on Thursday with a visitation from 6 p.m. to 8 p.m. Thursday evening at the Olliff-Boeve Memorial Chapel in Phillipsburg.
A Funeral Service officiated by Pastor Shawn Richardson will be held at 10 a.m. Friday, February 10, at the Luctor Christian Reformed Church near Prairie View. The service will be live streamed on the Olliff-Boeve Memorial Chapel Facebook page.
Memorial Contributions may be made to Luctor Christian Reformed Church, Sunshine City Library, or the Phillips County Fair Board