Letha (Reavis) Kraft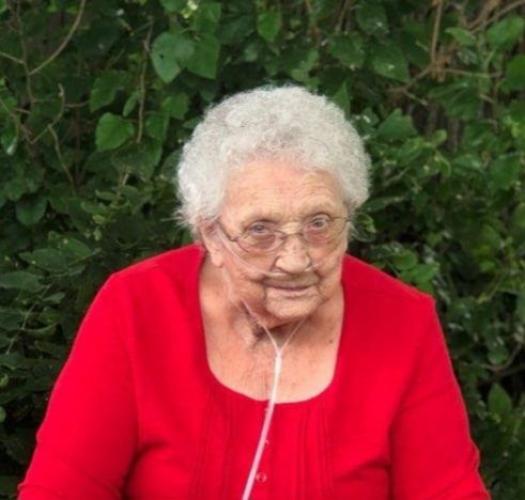 Letha Fay (Reavis) Kraft, 91, passed away Friday, October 27, 2023 at the Hamilton County Hospital in Syracuse, Kansas. She was born August 5, 1932 in Smith Center, Kansas the daughter of Theron Maurice Reavis & Vinnie (Pevler) Reavis.
Letha began her life in Smith Center, & attended Smith Center schools. On June 11, 1949, she married Ivan Norman Kraft in Wray, Colorado. To this union three children were born, Tammy, Lore, & Ivan II. They later moved to Denver, Colorado where she worked at the Stapleton Airport. She later became the owner & operator of an elderly home for 10 years in Morrison, Colorado. She then became a contractor for the Denver Post newspaper for many years. In 1985 she went to work for the Hamilton County Hospital where she was the Dietitian for 17 years & retired in 2002. She was an excellent cook & had a passionate love about helping anyway that she could at Lore's Café at the Sale Barn helping her daughter Lore. She enjoyed living in Syracuse & resided there until her passing.
Letha enjoyed playing bingo, working in her yard, keeping people in line, cooking, traveling, but most of all she enjoyed spending time with her family & grandkids.
Letha is preceded in death by her father Theron Maurice Reavis, her mother Vinnie (Pevler) Reavis, her husband Ivan Norman Kraft, two brothers - Verland Reavis and Jack Reavis, three Sisters: Fleta Hatton, Delores Steers, Margaret Fern Reavis, and her grandson Kyle N. Hoover
Letha is survived by her son: Ivan Kraft II of Syracuse, KS, two daughters: Tammy (& husband Tom) Sack of Zebulon, NC, and Lore (& husband Corey) Huber of Syracuse, KS; Five Grandchildren: Alisha & Ryan Sack, Tabatha Grilliot, Misty Phillips, Shane Hoover; Nine Great Grandchildren: Jaden, Byron, Gavin Grilliot, Jordan & Rylee Phillips, Blake & Jenna Posner, Ezeriah & Eritrea Sack
Memorial Services will be held on Saturday, November 4, 2023 at 10:00 AM (MDT) at the Southern Baptist Church in, Syracuse, KS. Inurnment will follow in the Syracuse Cemetery, Syracuse.
Memorial contributions may be payable to Fellers Funeral Home LLC. Donations may be sent in care of Fellers Funeral Home LLC, P.O. Box 1253, Syracuse, KS 67878. 620-384-5100.