Marie Hoover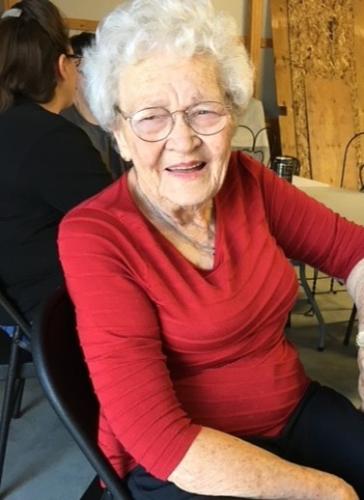 Funeral services for Marie Hoover will be held at 10:00 a.m. on Saturday, January 8, 2022 at Valley Memorial Funeral Chapel in Holly, Colorado. Pastor Kathy Leathers will officiate. Interment will follow in the Holly Cemetery.
Marie Hoover was born in Lindsay, Oklahoma on May 26, 1926to Curtis and Flossie Lane. Marie passed away peacefully at Holly Nursing Care Center in Holly, Colorado on December 5, 2021 with her niece, DeAnn Parker by her side.
Marie grew up in Lindsay, Oklahoma and married Berney Gail Hoover in February 1944. They moved to Holly, Colorado in 1944. Marie decided to go back to school and obtained her high school diploma graduating with the Holly Wildcats class of 1965. Gail and Marie were married for 67 years until his death in October of 2011. Gail and Marie were blessed with three children: Donald Gail Hoover born August 16, 1944, Robert Ray Hoover born August 16, 1946 and Kenneth Rex Hoover born May 21, 1952. They also had two beloved granddaughters, Jeri Lynn (Hoover) Deatherage and Jenifer Lee (Hoover) Barnett.
Marie spent her life enjoying their beautiful yard and bountiful gardens year after year. She drove a school bus for a period of time and also worked at Gateway Downs taking entries on the horses. She loved to craft and sew and was active with theVFW and the Holly United Methodist Church including helping with fair dinners.
Marie is survived by her son, Donald Gail Hoover; brother, Ray Lane; sister, Barbara Thompson; nieces and nephews, Rod(Keo) Thompson, Ronald Thompson, DeAnn (Bob) Parker, Rhonda Collett, Tamara (Rick) Stubblefield, and Kaona (Terry)Mixon; numerous great grandchildren and great nieces/nephewswho were very much loved; many other relatives and lifelong friends.
Marie was preceded in death by her parents, Curtis and Flossie Lane; husband, Gail Hoover; sons, Robert Ray and Kenneth Rex; and numerous in-laws including her beloved brother-in-law, Jeffie Jr. Hoover.
Memorial contributions may be made to the Holly Methodist Church, Holly Fire and Ambulance, or the charity of donor's choice in care of Valley Memorial Funeral Chapel, P.O. Box 950, Lamar, Colorado, 81052. To leave online condolences please visit www.valleymemorialfc.com.