Martha Lois Beauchamp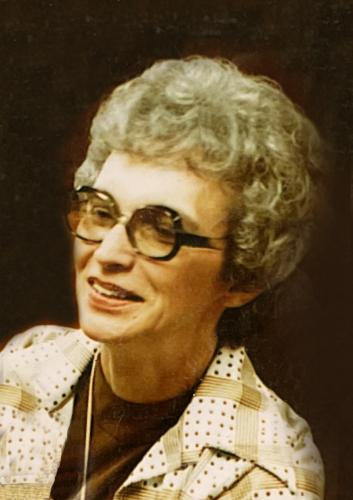 Martha Lois Beauchamp, age 90, of Canon City, Colorado, died November 6, 2022, at Hildebrand Care Center in Canon City, Colorado. The oldest of five children, she was born May 2, 1932, in Syracuse, Kansas, the daughter of Carl E. and Henrietta M. (DeWeese) Graves.
Martha was raised in Syracuse and attended Syracuse High School. She married Hayward Beauchamp and they raised five children, Keith, Kevin, Kent, Kelly and Kara. Martha worked hard raising her children and taught them the value of hard work. She was a rural route postal carrier in Manter for more than 20 years. Martha was devoted to her grandchildren and was over the moon when each of her great-grandchildren was born.
Martha was a member of the Manter United Methodist Church for many years. Many of the people she knew there were influential in her walk with the Lord. She accepted Christ as a young girl.
Survivors include her children, Kevin Beauchamp and wife Kelli of McPherson, Kansas, Kent Beauchamp of Johnson, Kansas, Kelly Beauchamp of Canon City, Colorado, and Kara Cravens and husband Russ of Greenwood, Indiana; daughter-in-law, Karen Beauchamp; brother, Merle Graves of Dell Rapids, South Dakota; sister, Shirley Stinchcomb of Casper, Wyoming;grandchildren, Heather (Scott) Knight, Brian (Michelle) Beauchamp, Nick (Andrea) Beauchamp, Christian (Abby) Beauchamp, Sam (Cari) Beauchamp, Kyle (Catie) Beauchamp, Amelia Cravens, Aaron Gerard, Alex (Hilary) Gerard and Rane Cravens; and great-grandchildren, Lexi, Zane and Ryder Beauchamp, Katrina Knight, Noah, Alex and Genevieve Beauchamp, Jack, Violet, Penny and Frankie Beauchamp, Elle and Aspen Beauchamp, Aubrey and Marley Beauchamp, Jocelyn, Elijah, Edwin and Leo Cravens, and Crew and Jones Gerard.
Martha is preceded in death by her parents, Carl and Henrietta Graves; son, Keith Beauchamp; great-grandson, Ike Beauchamp; and brothers, Fred and Larry.
Graveside service and interment will be Monday, November 14, 2022, at 1:00 PM (MT) at the Syracuse Cemetery in Syracuse, Kansas, with Reverend Kurt Rovenstine officiating. Memorial contributions may be given to the Ike Beauchamp Scholarship Fund in care of Garnand Funeral Home, PO Box 715, Johnson, KS 67855. Condolences may be posted at www.garnandfuneralhomes.com.