Marvin (Babe) E. Graber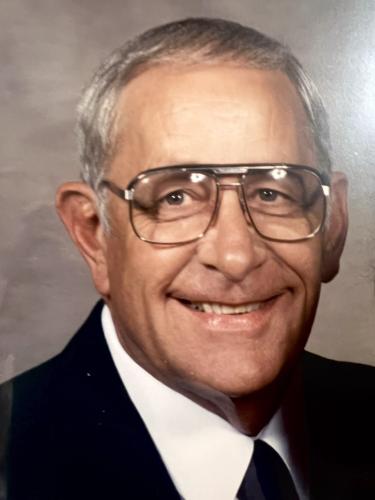 Marvin (Babe) E. Graber passed away August 31, 2023 at the age of 89 at the Hamilton County Hospital in Syracuse, Kansas. Marvin was born at his family home in Kendall, Kansas on March 20, 1934. He was the youngest of six siblings born to John and Carrie Graber.
Marvin graduated from Kendall High School in 1952 where he starred in basketball and baseball. After High school, Marvin joined the US Army where he was stationed in South Korea. After leaving the Army, Marvin became a member of the Army Reserves and moved back to Kendall to work on the family farm.
Marvin married Laura Overton on November 30, 1957 which began their journey of 66 years united in marriage. From this union two children were born, Marvin Jr. and Marci Graber.
As the son of a farmer, Marvin became familiar with agriculture and finance in his experiences of farming and working at the Kendall Coop and car dealerships in Syracuse. He was later employed at the First National Bank in Syracuse where he became President and CEO. After leaving First National Bank, Marvin became the Administrator of the Hamilton County Hospital and the Manager of the Kendall Coop.
In his free time Marvin enjoyed fishing, bird hunting and riding his motorcycle. He was an accomplished wood worker and remodeled several houses over the years. Marvin was known for his many practical jokes on his friends and family and had a passion for sports as an avid fan of the Kansas Jayhawks and the Kansas City Royals.
Marvin enjoyed his daily drives down the river road where he could observe the migrations of geese and ducks, spot the occasional deer and turkey, and watch the changing landscape of the seasons. Marvin adored playing with the family dogs, feeding birds and squirrels, watching westerns on television and he appreciated and welcomed a good joke.
Marvin was a member of the First Presbyterian Church in Syracuse, Kansas and is preceded in his death by his father John A. Graber, his mother Carrie (Flickner) Graber, his sisters Selma Ross, Helen Bell, Alice Jury, Florence Boese, and his brother John Graber.
Marvin is survived by his wife Laura (Overton) Graber of Syracuse, Kansas, son Marvin Jr. (Christi) Graber of Garden City, Kansas and daughter Marci Graber of Santa Fe, New Mexico.
Visitation will be held on Tuesday, September 5th, 2023 from 4:00pm to 6:00pm MDT at Fellers Funeral Home, 401 N. Sumner Street in Syracuse, Kansas.
Funeral Service will be held on Wednesday, September 6th, 2023 at 10:00am MDT at the First Presbyterian Church in Syracuse, Kansas. Interment to follow at the Syracuse Cemetery.
Memorial contributions may be payable to the First Presbyterian Church of Syracuse, Kansas. Donations may be sent directly to Fellers Funeral Home LLC at P.O. Box 1253, Syracuse, Kansas 67878.