Melvin D. Winger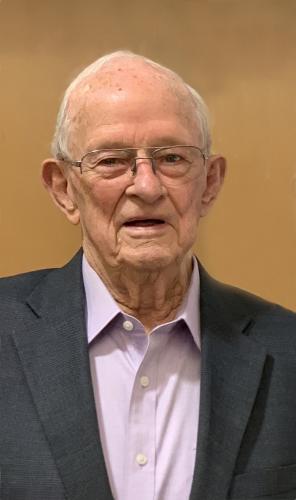 Melvin D. Winger, age 96, of Johnson, Kansas died peacefully on Monday, August 14, 2023 at the Stanton County Hospital in Johnson, KS. He was born to Clarence Earl and Bessie Helen Winger on May 8, 1927 at their home on their farm near Johnson, KS.
Growing up near Johnson, Melvin attended the nearby one-room Fletcher schoolhouse through the 8th grade. For high school, Melvin drove to Johnson where he became the 14th student in his graduating class. With his competitive spirit, he loved playing basketball – although only after all his chores were done!
At church and Sunday School, Melvin met his sweetheart, Mona L. Edmisson, whom he married on May 16, 1948, after attending Kansas State University for 2 years. They lived on the Winger family farm together until his passing.
Alongside his father, he learned the value of hard work, which was the foundation of his business success. Over 60+ years, Melvin, along with Mona, built a farming and cattle operation that often included both family and friends as partners. Due to his personal philosophy, Melvin invested as a full and silent partner in dozens of businesses and was instrumental in recruiting new farming business to the area. He was deeply committed to the success of his local community.
In 1975, as the Chairman of the board, Melvin (and Mona) expanded a regional banking operation, bringing in family and community members to the board. Despite his background in farming and feedlots, he made it a goal to learn the banking industry.
In 1959, Melvin was honored as the Outstanding Farmer of Kansas. This was the first of many awards and recognitions Melvin received throughout his long life. In 2000, he was honored as the Top Producer of the year.
Throughout his life, Melvin served on many community boards, where he often held leadership positions. He was recruited to be a County Commissioner in 1958 and was elected to serve from 1959 to January 2001. Over those many years, he was instrumental in sharing his philosophy of investing in the county as an important strategy to bring in good teachers and other professionals. Melvin, referred to as "an angel investor who would rather sink his money into Main Street rather than Wall Street", believed in the importance of doing business in Stanton County.
He served on the Pioneer Electric board for 49 years (1971 – 2020), serving as President of that same board from 1985 to 2019. His support contributed to the regional expansion of the rural electric cooperative. He helped develop the Southwest Kansas Ground Water Management District #3 and served as board member from 1976 – 1983, remaining active in state and local water issues, including being featured in a documentary about the Ogallala Aquifer.
Melvin attended church and church activities throughout his life. Melvin was a man of deep faith who shared his Christian love as a United Methodist with his wife. When asked, he said that his favorite service on a board was as a Trustee on the St. Paul School of Theology Board of Trustees from 1990 to 2015. When his term expired, the board members honored him as a lifetime Trustee.
Melvin fulfilled his dream of flying in the early 1970s by becoming a pilot. He loved flying and used his personal plane to travel to business meetings as well as for pleasure.
In 1993 Melvin and Mona suffered through major tragedy when they first lost their youngest son, Edwin Lee, as an adult, followed by losing their daughter, Sally Gail, 6 years later, and were able to survive these heartbreaks only with their profound faith in God and their love and support of each other.
Melvin is survived by Mona, his wife of 75 years; his daughter, Melva Jo (Carlos) Rondon of Littleton, CO, son Dr. Raymond Earl Winger of Big Spring, TX; grandchildren Brant (Amy) Peterson of Johnson, Brian (Shawn) Peterson of Johnson, Margaret Winger of Lyons, KS., Elizabeth Winger (Wes) Young of Satanta, KS, Clara Winger of Columbus, NE, George (Kali) Winger of Elkhart, Karla Rondon of Ann Arbor, MI, and Katherine Winger of Theresa, NY; great-grandchildren Cort (Corrine) Peterson, Cyle Peterson, Peyton Peterson, Creed Peterson, Chesney Peterson, Carsyn Winger, Brylie Peterson, Kipling Young, Britta Young (who was born on Melvin's birthday), and Hudson Winger.
Throughout his life, Melvin was very proud of his heritage and loved his family, especially enjoying their frequent visits.
As we prepared for this service, several of Melvin's friends have called to share stories of his quiet and boundless generosity. He was an exceptionally giving, humble, and joyful man who found meaning in lending a hand to those in need and never asked for recognition.
Funeral service will be Saturday, August 19, 2023, at 10:00 AM at First United Methodist Church in Johnson with Pastor Jacques Kambol and Pastor Elizabeth Winger Young officiating. Interment will follow at the Stanton County Cemetery. Visitation will be Friday, August 18, 2023, from 2:00 PM until 8:00 PM with family present from 5:30 PM to 7:00 PM at Garnand Funeral Home in Johnson. Memorial contributions may be given to the First United Methodist Church in Johnson in care of Garnand Funeral Home, PO Box 715, Johnson, KS 67855. Condolences may be posted at www.garnandfuneralhomes.com.