Minnie Lou (Beem) Marshall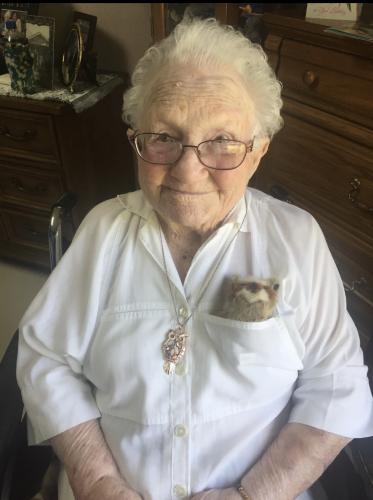 Minnie Lou (Beem) Marshall, 96 of Lakin, Kansas passed away on Sunday, September 20, 2020, at the High Plains Retirement Village in Lakin, Kansas. She was born on August 12, 1924 in Sharon Springs, Kansas, the daughter of Guy Beem and Emma D. (LaCost) Beem.
Minnie Lou attended Weskan High School in Weskan, Kansas and graduated in 1942. While she was in school she was the Ping Pong Champion in 1941. She moved to Syracuse, Kansas, in early 1945 where she met and married Burgess Marshall on November 23, 1945. To this union two boys were born, Dennis and Brett. In early 1945, she began working for the Agricultural Adjustment Administration's office. In 1946 and 1947, she was a dental assistant for Dr. W. A. Watkins. She was later employed at Foster Lumber Company, O'Brien's Department Store, Montgomery Insurance Company, and then was a clerk-typist for the Kansas Department of Transportation where she retired in 1986.
She was a member of First Presbyterian Church of Syracuse, where she was a Sunday school teacher, member of the Mariners Club and United Presbyterian Women's organization. She was a member of the American Legion Auxiliary, Red Cross Bloodmobile volunteer, canvassed the business community for the Cancer Fund, Heart Association and Arthritis Drives. She also helped organize articles for The Syracuse Journal newspaper. She enjoyed working with the public. She dearly loved her husband, Burgess, her two sons, numerous nieces and nephews, grandchildren and great-grandchildren. She enjoyed her bowling teams and trips to the state and national tournaments. She enjoyed working crossword puzzles and checking spelling in the dictionary. She liked taking trips with family and friends. She was a big KU Jayhawk basketball fan. She loved playing cards and board games with family and she was a collector of owls. Her favorite invention was the telephone, which she used frequently to visit with family and friends.
She is survived by:
Son: Brett Marshall of Garden City, KS
Daughter-in-law: Gale Marshall of Syracuse, KS
3 grandchildren: Tanda Castle
Dale Polk of Temecula, CA
Joel Polk of Colby, KS
11 great-grandchildren
Close family friend Joana Rash (Gary) of Syracuse, KS.
She was preceded in death by:
Father: Guy Beem
Mother: Emma D. (LaCost) Beem
Spouse: Burgess Marshall
3 Brothers: Roy Beem
Ray Beem
Rex Beem
1 Sister: Gladys James
Son: Dennis Marshall
And numerous family and friends
Visitation will be held, from 3:00 PM to 7:00 PM (MDT) on Thursday, September 24, 2020 at Fellers Funeral Home LLC in Syracuse, KS.
Graveside Funeral Services will be held on Friday, September 25, 2020 at 10:30 AM MDT the Syracuse Cemetery in Syracuse, Kansas.
Memorial contributions may be payable to High Plains Retirement Village, and sent in care of Fellers Funeral Home & Monuments LLC, P.O. Box 1253, 401 N. Sumner, Syracuse, KS 67878. 620-384-5100