Nicholas R. Williams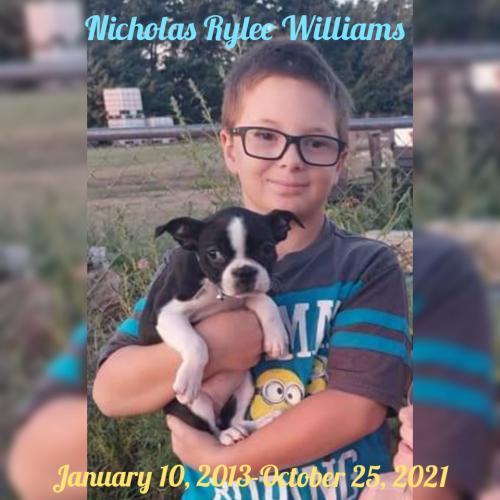 Offerle - Nicholas Rylee Williams, 8, died October 25, 2021 in rural Ford County. He was born on January 10, 2013 in Dodge City, the son of Curtis and Kimberlee (Bonnette) Williams.
Nicholas attended school in Spearville, where he was currently a 3rd grader at Spearville Elementary. He knew no stranger, and loved helping people. He looked forward to fair time to participate in the tractor pull, as well as muttin busting at the rodeo. Nicholas had a love for animals; from playing with the dogs, to feeding the cats, as well as wrestling with the bucket calves. He also loved spending time with grandma and papa, riding his bike, the gator and 4 wheeler, and swimming in the summer. He was also immensly proud of the house remodel and being a part of the demo and reconstruction.
Nicholas especially loved all things farm related, and was eager to learn especially anything hands on. He loved helping drive the equipment such as the grain cart, and helping to move fields during harvest. Nicholas also enjoyed riding to the COOP as well as helping to work cattle.
Nicholas is survived by his parents, Curtis and Kimberlee Williams of Offerle; three sisters, Natalee, Haylee, and Emmalee Williams; grandparents, Donald and Janet Williams of Offerle, and John and Chris Bonnette of Syracuse; great grandparents, Lynda and Elvin Hazen of Holcomb and Jackie Shane of Juno, Wisconsin; aunts, Sarah Williams of Dodge City, Heather Bonnette and fiance Ron Jennings of Lakin, and Loretta Bonnette of Syracuse; uncle, Kenneth Bonnette of Syracuse; as well as numerous cousins. He was preceded in death by great grandparents, Dennis Bonnette, Thomas and Deaton Williams, and Robert and Thelma Wetzel.
Funeral service will be held at Holy Cross Lutheran Church in Dodge City on Tuesday, November 2, 2021 at 10:30 AM with Rev. Stanley Palmer and Rev. Randall Jahnke presiding. Burial will follow at Zion Lutheran Cemetery in Offerle. Visitation will be at Swaim Funeral Chapel in Dodge City on Monday, November 1, 2021 from 12:00 PM to 8:00 PM. Nicholas took his responsibility as "big brother" seriously and would have liked to have helped protect and take care of his sisters later in life. Memorials are suggested to Nicholas' sisters to go toward their future education and expenses in care of the funeral home. Thoughts and memories may be shared in the online guest book at www.swaimfuneralhome.com.