Patricia Berniece Tyler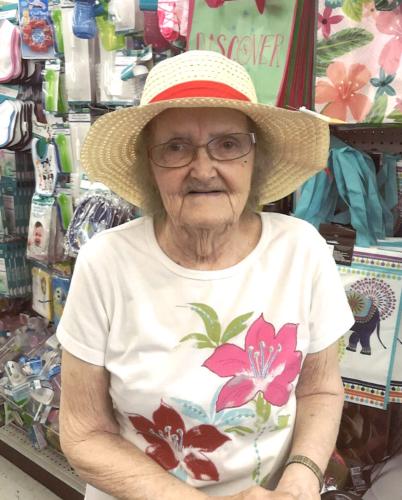 Patricia Berniece Tyler of Denison, Texas, passed away on September 7, 2023, at the age of 82. She was born on November 3, 1940, in Cairo, Kansas, to Albert Alexander and Lois Aletha (Wilson) Clark.
Patricia had a caring and nurturing spirit. She loved working as a nurse and helping others. During her career in nursing, Patricia began working as a nurse aide at Hamilton County Hospital, all while attending nursing school and graduating at the top of her class at Garden City Community College in 1972. In 1974 and 1976, Pat commissioned the opening of two long-term care units in Syracuse and Johnson, Kansas. Patricia began working as a nurse for Dr. Ramchandani in 1998 in Johnson, Kansas. She followed Dr. Ramchandani, where she made lifelong work connections with Dr. Vega and continued her passion for helping others. In 2011, Pat moved to Kingman, Kansas, where she began another lifelong work relationship with Dr. Alexander while working at the Kingman Clinic with Dr. Alexander and Dr. Vega. Her ability to serve others with her loving spirit helped many people during her tenure as a nurse.
Patricia absolutely loved her three fur babies: Tia, Cinnamon, and Zoey. She also loved gardening and ensured she had a constant display of petunias, hollyhocks, and clematis around her house. Surrounding her home, Pat kept several bird feeders and houses to support a variety of birds around her house that she enjoyed watching in her spare time. While Patricia was not chasing her passion as a nurse, she bred and raised finches and parakeets in her home for her community. In her free time, she enjoyed the outdoors, specifically fishing for catfish. Pat, her husband, Tiney, and the dogs enjoyed camping together and exploring nature. Pat was an avid crocheter who loved making Afghans, animals, blankets, and baskets and sewing matching outfits for her and Tiny to dance in. Patricia was a master at baking and specialized in custom birthday cakes, with her most memorable being a baby grand piano. Patricia was a habitual traveler to Texas and Tennessee to visit her daughters, Lenore and Sue, and grandchildren. Pat would bring a car full of surprises for each grandchild with their own bag of goodies on each visit. Patricia will be deeply missed by her family and all who knew her.
She is survived by her daughters, Georgia Sue Elliott and husband Bill of Henderson, Tennessee, and Lenore Johnson of Denison, Texas; five grandchildren, Tara O'Neal and husband Michael, Charles Elliott, Leandrea Bowling and husband Zac, Kassandra Johnson, and Tamara Short and husband Ethan; eight great-grandchildren, Lilly Hensley, Cora Elliott, Hunter Helbeston, Gabrielle O'Neal, Bryson O'Neal, Aniyah Bowling, Layden Anderson, and Landrey Anderson; niece, Lisa Batterton and husband Lynn and their children; and nephew, Dean Bearce II and wife Leslie and their children.
She was preceded in death by her first husband, Kenneth Beane; second husband, Tiney Tyler; parents; sister, Linda Bearce; and husband, Dean Bearce.
Graveside service will be Monday, September 18, 2023, at 10:00 AM at the Stanton County Cemetery in Johnson with Mary Courtney officiating. Visitation with family present will be Sunday, September 17, 2023, from 6:00 PM until 8:00 PM at Garnand Funeral Home in Johnson. Memorial contributions may be given to Alzheimer's Association in care of Garnand Funeral Home, PO Box 715, Johnson, KS 67855. Condolences may be posted at www.garnandfuneralhomes.com.