Shilo Christine Van Tatenhove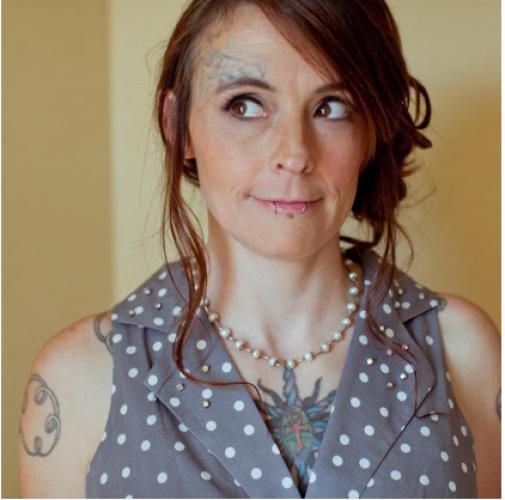 With the heaviest of hearts, we let our friends and family know that Shilo, my wife of almost 30 years and mother to our amazing daughters, passed away suddenly on the evening of Friday, May 12th, 2023, due to complications with a long-term medical condition. She passed on to the next adventure at home with us. She had a great day before she had to go; her last year with us was one of our best.
Shilo embodied the creative life journey of a true artist and writer. She and her family lived life fiercely and on their own terms. Shunning conventionality instead choosing to forge their loving bohemian path. Shilo was a life-long writer first in her poetry and stream-of-consciousness poetry and started her first full-length novel this past year. She was about halfway finished but shared all of the world-building and story/character development with her husband (also an author.) Her husband and daughters intend to finish her novel and publish it someday. Much like Vincent Van Gogh, she never cared if she found recognition or success. She just wanted to share her beautiful, vivid thoughts.
We love and miss you already. And are so proud of being a part of your journey and the completely unique, kind, creative human you were.
We will see you again someday when we finish our own life stories.
* * *
Shilo Christine Van Tatenhove passed away the evening of Friday, May 12, 2023, in her home in Estes Park, Colorado.
A celebration will be held at The Wheel on Sunday, May 21, 2023, at 3 pm. We consider this an anti-funeral and ask those friends and family that wish to join us to come dressed to celebrate. Think of dressing up as if you were going out to your favorite dance club.
Shilo was born on May 1, 1974, to Debra and Clifford Schweizer in Johnson City, Kansas. Shilo graduated from Woodland Park High School and continued to receive a Bachelor of Science in Psychology from Colorado State University. She graduated on the Dean's List even while struggling with daily chronic pain.
Shilo was married to Jason Van Tatenhove for the past 30 years.
Shilo is well known for her kind heart and willingness to help others. She was also actively involved in her girls' lives, supporting them with their wrestling, theater, dance, music, and photography interests.
Shilo is survived by her three daughters, Lux, Wintyr, and Sierra, granddaughter AnaBelle, husband Jason Van Tatenhove, two sisters and brother on-law Haylee Schweizer of Fort Collins, Colorado and Cory and Ryan Gorton of Divide, Colorado, Mother Debra Stocking of Syracuse, Kansas, two nieces, two nephews, and many more friends and family.
Shilo is preceded in death by her fathers, Clifford Schweizer and Jerry Stocking, and her grandparents, Ralph and Toots Schweizer and Archie and Marjorie Nairn.
In place of flowers, memorial donations may be given at https://gofund.me/b4373f3a. The family wishes to thank the Estes community, who helped us navigate this difficult time.