VARSITY BOYS ADVANCE TO NEXT ROUND OF SUBSTATE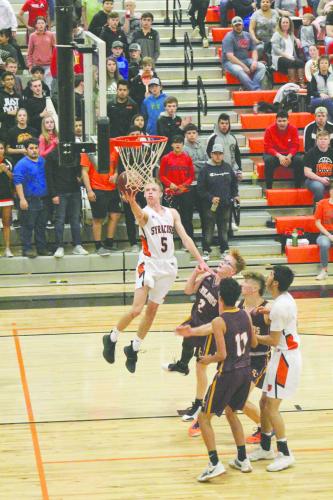 AUSTIN PLUNKETT/PHOTO BY KRISTA NORTON
The boys took on Stanton County Tuesday night in the first round of the Substate games. Coming off of a loss against Leoti on Thursday night 49-46,
On the Leoti loss, coach Bryce Simon said, "Our program was two minutes away from a really really good night. JV and C teams both played well picking up wins that finished off their seasons with records of 12-4 and 6-4 respectively. Varsity boys played really well and did everything we asked them to and we just came up a little short in the last 2 minutes, another learning experience for our program. We want to thank our 5 senior players - Damian Ramirez, Cody Doze, Drake Durler, Luke Finlay and Zared Vernon for everything they have meant to our program. We also can't forget our senior manager Emily Smith and want to thank her for everything she does."
On Tuesday night, they came out charged and ready to play. The energy of the crowd and their intensity showed and they hit threes all night.
At the half, it was Syracuse 23, Stanton County 14.
It was their night. They passed the ball well and made their open shots. At the end they followed the coach's game plan and slowed it down. Final score Syracuse 48 Stanton County Trojans 34.
Damian Ramirez led the scoring with 14 points followed by Kyler Keller with 11. Cody Doze scored nine points with six assists.
"We were very proud of how our boys played last night. The crowd was great, the environment was great, the little kids did an AMAZING job with the national anthem. Johnson boys are a very talented team and we knew we would have to play our best to win. We felt like our guys were focused and ready to play, they hit big shots and like always, they did everything we asked of them. Could not be more proud." said Simon
Syracuse's record is 15-6 going into Friday night's game.
The boys play Wichita County Friday night at Elkhart at 6:30 MST.