VARSITY GIRLS MOVE ON TO NEXT ROUND OF SUBSTATE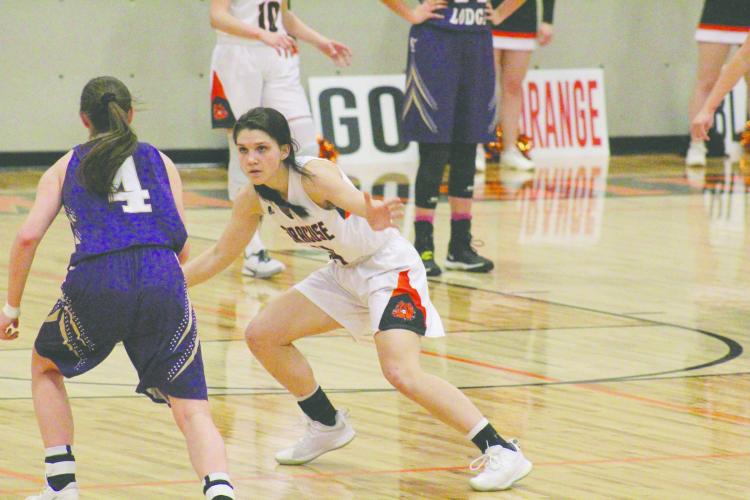 Last Thursday, Senior night, the varsity girls basketball team went up against Leoti for a makeup game. The girls started off strong right away and never let up making it another great team win. The three seniors on the team are Areia Bustillos, Carly Kullot, and Margo Stum.
They held Leoti to only two points in the first quarter with a score of 17-2 and third quarter 28-8. They defeated Wichita County 44-13. The girls ended the regular season with a great win and record of 15-5.
Kullot led the team with a total of 14 points, 12 of them were from threes. Bustillos had six points with the second highest rebounds, four. Stum had four points and led the team with a total of five rebounds. From the free throw line the team was nine for fifteen, sixty percent.
Stum commented, "It was very sad and emotional for me. I started playing when I was young and it's coming to an end. This was a fun team win."
Kullot stated, "It was a good game heading into the postseason for all of us. We feel confident and excited going into sub-state. It was mixed emotions for all three of us seniors. I love my team and am excited for what this week brings."
"It was a very emotional game since it was senior night and the last regular season home game," commented Areia Bustillos.
Coach Fyler expressed, "The senior girls have been great players and leaders for this program and I am proud of everything they have accomplished and continue to accomplish. They set high expectations and goals for this season and have led their team where they wanted to go. We will miss them next year but they will always be part of the Lady Bulldogs team."
SUBSTATE - The girls played Medicine Lodge on Monday in the first round of Sub-State. The girls came out strong but towards the end of the first, shots stopped falling for us. It was tied in the second quarter with a score of 11-11 with 27 seconds left.
Freshman, Yaya Moreno, knocked down a three with three seconds left. The Indians had a turn over giving us the ball with .4 seconds left, for a score of 14-11 at half. It was a low scoring game for both teams, we struggled to get rebounds and make free throws throughout the game but were able to keep working hard. At the end of the third Jayden Mitchell, junior, hit a three with eight seconds left tying the ball game once again. At the end of the third. the score was 23-23. Kate Riley rebounded and put the ball back into the hoop to make the score 31-27 in the fourth.
Fouling gave Medicine Lodge the opportunity to shoot free throws and we landed in overtime with a tie score of 31-31.
The girls were able to come out strong in overtime, Stum won the jump then was fouled with 35 seconds left. She made both free throws and later fouled again making one for two. The final score was 38-34.
Jayden Mitchell, junior, led with a total of nine steals, Stum led the team with seven total rebounds, and Kate Riley, junior, led with eleven points.
"Medicine Lodge is a tough team that plays hard the entire game. We struggled with shooting and on the boards, but we found a way to make it work," commented Head Coach Fyler.