CRAM THE VAN SUCCESS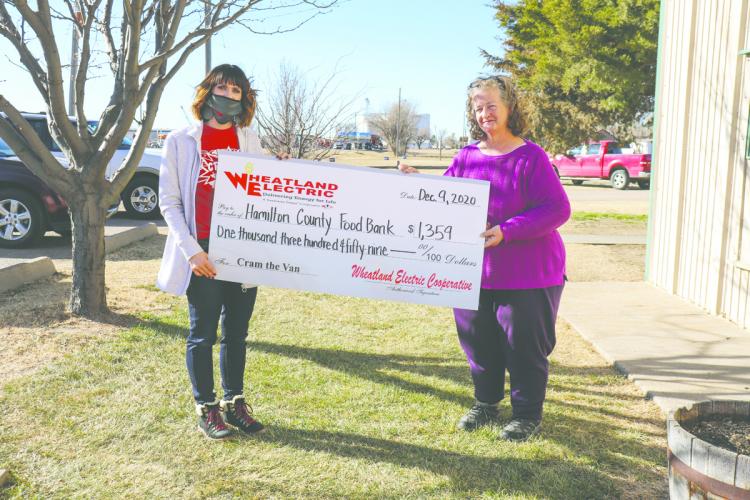 2020 Cram the Van Food Drive Collects Equivalent of 16 Tons of Food in Record-Breaking Year
Hamilton County Food Pantry in Syracuse raised 2,679 lbs.
Kirsten Seal said, "The giving overall has been overwhelming- food and money. And effort! Volunteers showed up every time we asked. We gave away 150 Christmas boxes, nearly double what we had given in the past."
Wheatland Electric's 2020 Cram the Van season has raised the equivalent of 32,206 pounds of food for 11 area food banks across our service territory, more than any year since its inception in 2014.
Since its inaugural season and including this year's totals, Wheatland Electric has facilitated the collection of more than 63 tons (127,733 pounds) of food donations, thanks to the generosity of the members and communities we serve. To date, all donations have been delivered to the local food banks in the communities in which they were donated.
Due to the special challenges surrounding the ongoing pandemic, Wheatland Electric held six donation drive-ins during the months of October and November to facilitate the collection of both cash and can donations from members in exchange for a pre-packaged hamburger or hot-dog meal.
Thanks to these donations, additional online donations, and proceeds collected from the second annual Co-Ops Cares Charity Golf Tournament, held Aug. 28, 2020, at Mariah Hills Golf Course in Dodge City, Wheatland Electric has delivered the equivalent of 16 tons of food to 11 local food banks within our southwest and southcentral service territory.
Watch a video of our 2020 Cram the Van donations and deliveries at https://youtu.be/VFPcR8PRH-0. For more information about Cram the Van, visit https://www.weci.net/cram-van-food-drive.
Their Mission: Delivering Energy for Life – Wheatland Electric Cooperative, Inc., a member owned distribution cooperative headquartered in Scott City, KS, was established in 1948 as a distribution and power cooperative, in the state of Kansas.